Moore's Ford Bridge Lynching Photo Discovery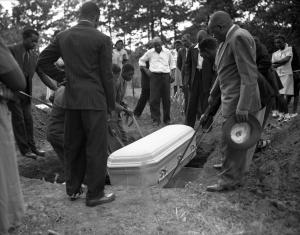 A cache of 32 photographs taken shortly after the 1946 Moore's Ford Bridge Lynching in Walton County, Georgia has been recently discovered by Tim Crimmins, a Georgia State University history professor.
Dr. Crimmins was surveying the Atlanta Journal and Constitution Photograph Collection, which was donated to GSU Library's Special Collections Department in March 2010, when he recognized the significance of these photographic negatives.  They document people and places related to the last unsolved mass lynching in U.S. history.
The 1946 Georgia lynching, a quadruple killing by 12 to 15 perpetrators, attracted national attention and was unsuccessfully investigated by the FBI.  In 2001, Governor Roy Barnes reopened the investigation with the Georgia Bureau of Investigation and in 2006 the FBI also re-entered the case.
In 2004 Laura Wexler published Fire in a Canebreak which details this horrific racial crime.
The photographs are shown below with the hope that names and locations can be identified.   Please contact Peter J. Roberts at proberts@gsu.edu if you have additional information.
All photographs copyright Atlanta Journal-Constitution. Courtesy of Georgia State University Library.