Qualitative Research Summer Intensive Program @ UNC
GSU Qualitative Researchers: Looking for intensive qualitative research training opportunities for the summer?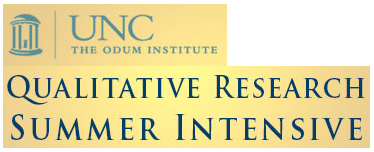 Explore the offerings at the University of North Carolina Odum Institute's 13th Annual Qualitative Research Summer Intensive.
Eighteen one-day and two-day courses are being offered:
Crafting Phenomenological Research: How Phenomena Can Take Shape in Various Contexts
Fundamentals of Qualitative Research
Implementation Research: Using Qualitative Research Methods to Improve Policy and Practice
'Sort and Sift, Think and Shift': Learning to Let the Data Guide Your Analysis
Writing Effective Qualitative and Mixed Methods Proposals
Writing Rites: Working on Your Analysis and Writing
Analyzing Online Conversations: A Research Framework
Building a Codebook and Writing Memos
Creating Credible, Vivid, and Persuasive Qualitative Stories: Research as Performance
Designing, Using, and Evolving Qualitative Interview and Focus Group Guides
Foundational Principles of and Approaches to Mixed Methods Research
Learning from Lived Experience: How We Can Study the World as It Is Lived
Coding and Analyzing Qualitative Data
Designing and Making Decisions in Qualitative Data Collection Projects
Digital Tools for Qualitative Research
Introduction to Grounded Theory: A Social Constructionist Approach
Mixed Methods: Bridging Qualitative and Quantitative Methods and Results
Shifting Analytic Direction with Final Products in Mind: Using the 'Sort and Sift' Toolkit (co-taught by Georgia State University's Kevin Swartout, Assistant Professor in the Departments of Psychology and Public Health)
Click here for compiled course titles and descriptions, instructors, and dates, and click here for more information plus registration and pricing details.