NEW – GSU Data Ready! Micro-Credential Badges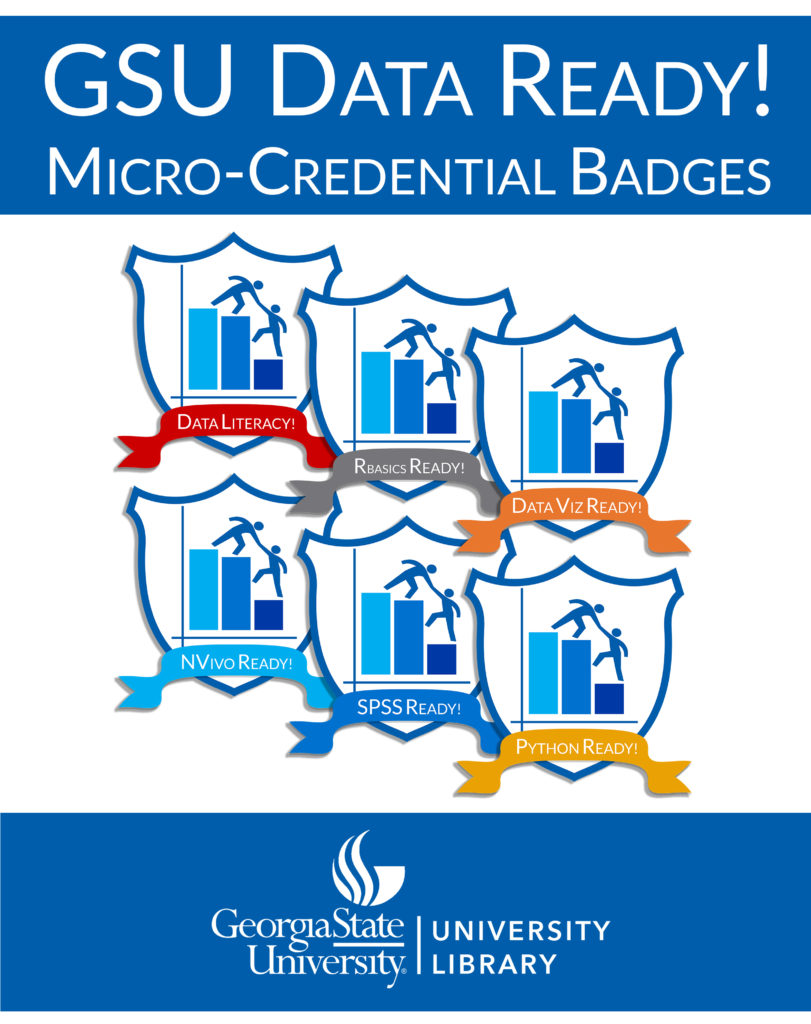 Build your data skills and receive digital badges to demonstrate your achievements to others, such as your current or potential employers, or graduate schools to which you are applying, or professional colleagues.
The Library's Research Data Services (RDS) Team teaches introductory training workshops related to tools like R, Python, SAS, Stata, SPSS, Tableau, NVivo, ArcGIS, social media APIs, and more. We offer live workshops posted on our calendar and also recorded workshops to watch at your convenience.
Check out our NEW digital badge micro-credential program, GSU Data Ready! Badges — all GSU students, faculty, and staff can earn multiple micro-credential badges and easily share badges via social media platforms, embedded code on websites, or direct links. Learn more at lib.gsu.edu/data-ready!
Why learn data skills and earn badges?
Data skills are highly valued by today's employers — "the most lucrative skill[s] to have" and "the most valuable skill[s] you can learn." By earning GSU Data Ready! Badges, you demonstrate to potential employers that you are committed to growing the data skills that they look for in hires.
Are you a GSU instructor?
Want your students to learn data skills, but don't want extra work on your part? Consider having your students earn GSU Data Ready! Badges for required or extra credit! Once your students receive a badge, have them share it with you for verification by either (1) having them forward their Badgr email notification, or (2) having them create a Badgr account to then send you a link to their badge in their Badgr Backpack.