In Memory of Harper Lee, 1926–2016
Novelist Harper Lee died this morning in Monroeville, Alabama at the age of 89.  She shot to fame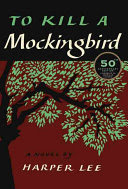 in 1960 with the publication of To Kill a Mockingbird, which won the Pulitzer Prize the following year.  A movie version, released in 1962 and starring Gregory Peck, brought further acclaim, and then Harper Lee all but disappeared from the public eye.
To Kill a Mockingbird remained her sole published novel until Go Set a Watchman,  a sequel written in 1957, was released in 2015.  Set 20 years after the events of To Kill a Mockingbird, Go Set a Watchman continues to explore themes of racism in the Deep South.
For critical works about To Kill a Mockingbird, search the library catalog for harper lee <subject> or to kill a mockingbird <subject>.   To find scholarly articles about the novels, search MLA Bibliography.