Attend Data Workshops and Get RDS@GSU Data Certified!
The Georgia State University Library's Research Data Services (RDS) Team offers a wide variety of workshops on data analysis tools & methods, mapping & data visualization, finding data & statistics, and data collection. This Spring 2021 semester the RDS Team is offering 42 live online workshops — some of which are "Data After Dark" evening workshops to better accommodate your busy daytime schedules. And we also offer recorded versions of our workshops — so you can learn new data skills at your convenience, any time, any place!
And…
You can get RDS@GSU Data Certified!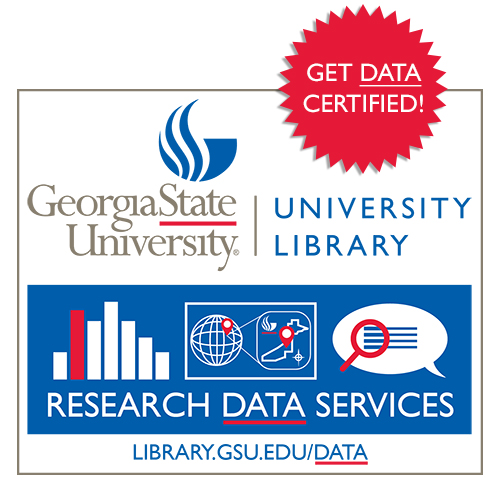 IMPORTANT: All the pertinent details and requirements for certification are available at lib.gsu.edu/data-certified — please read them carefully, but below is the gist:
Find RDS workshop listings on the Library Calendar…

​look for the logo with the GET DATA CERTIFIED seal, or
filter by: Category = Data Services Workshops.

OR, watch the recorded versions of our workshops.

Yes, watching recorded workshops also counts toward certification.

Attend a minimum of five unique RDS workshops during the certification period.

Be sure to check-in using the check-in form provided during the live workshops and in the recorded workshops so that your attendance gets counted!
Also be sure to read all the stipulations on the website (lib.gsu.edu/data-certified) for when certification periods begin and end, what counts as "unique," and so on.

If you've attended a minimum five unique RDS workshops during the certification period, you get certified!

At the end of the certification period, we'll tally attendance to determine who should be awarded certificates.
If you've made your minimum five, you will receive a PDF version of the certificate via email.​
Yes, it's that easy! And by getting RDS@GSU Data Certified, you demonstrate to potential employers that you are committed to growing the data skills that they look for in hires. Here is what some of the RDS@GSU Data Certificate awardees have said about the experience:
The certificate is a great opportunity to become a more competitive candidate while applying for a job. The workshops were very interactive.
I thought the RDS@GSU Data Certification incentivized my participation in the RDS workshops. The workshops themselves were great and it definitely helped me brush up on prior skills and knowledge.
Certification looks amazing on resumes, I also found what was covered useful to my practice of SAS & SPSS.
It is essential for me as a student majoring in Epidemiology. I will be involved in research, and the only way to answer some of the world's health problems is making sense out of data. I'm confident this certificate will prove useful for me in getting a job. The entire program is flexible, and the materials are very helpful in understanding the course content.
So, get RDS@GSU Data Certified!
Why should you attend the Research Data Services (RDS) Team's data workshops?
Data skills — even just basic data skills — are highly valued by today's employers — being called "the most lucrative skill[s] to have" and "the most valuable skill[s] you can learn." So, attending our data workshops will give you a leg up once you're out there looking for a job.
Best of all, our data workshops are all free.
You may be thinking, "So what if they're free?" Well, we researched how much workshops on our various topics would cost out in the real-world market, and what we found may make you re-think that "so what" reaction:
You could expect to pay $110 on average for a 1.5-hour workshop (the typical length of our workshops).
You could pay as low as $61/1.5-hour workshop, or as high as $200/1.5-hour workshop.
In other words, our free workshops are clearly quite a bargain and something you should be taking advantage of while you can…