Get RDS@GSU Data Certified!
The Georgia State University Library's Research Data Services (RDS) Team offers a wide variety of workshops on data analysis tools & methods, mapping & data visualization, finding data & statistics, and survey design. This Fall 2019 semester the RDS Team is offering 66 workshops — the most offerings we've had in a single semester to date. We're even offering some evening workshops this semester to better accommodate campus researchers' needs.
Why should you attend the Research Data Services (RDS) Team's data workshops?
Data skills — even just basic data skills — are highly valued by today's employers — being called "the most lucrative skill[s] to have" and "the most valuable skill[s] you can learn." So, attending our data workshops will give you a leg up once you're out there looking for a job.
Best of all, our data workshops are all free.
You may be thinking, "So what if they're free?" Well, we researched how much workshops on our various topics would cost out in the real-world market, and what we found may make you re-think that "so what" reaction:
You could expect to pay $110 on average for a 1.5-hour workshop (the typical length of our workshops).
You could pay as low as $61/1.5-hour workshop, or as high as $200/1.5-hour workshop.
So, the 66 workshops that the RDS Team is offering for *FREE* in this Fall 2019 semester equates to an average $10,890 total cost at the market price, and it could range from $6,039 to $19,800 in total cost.
In other words, our free workshops are clearly quite a bargain and something you should be taking advantage of while you can…
Need even more incentive to come to our data workshops?
Okay, how about this for an incentive:
You can get RDS@GSU Data Certified!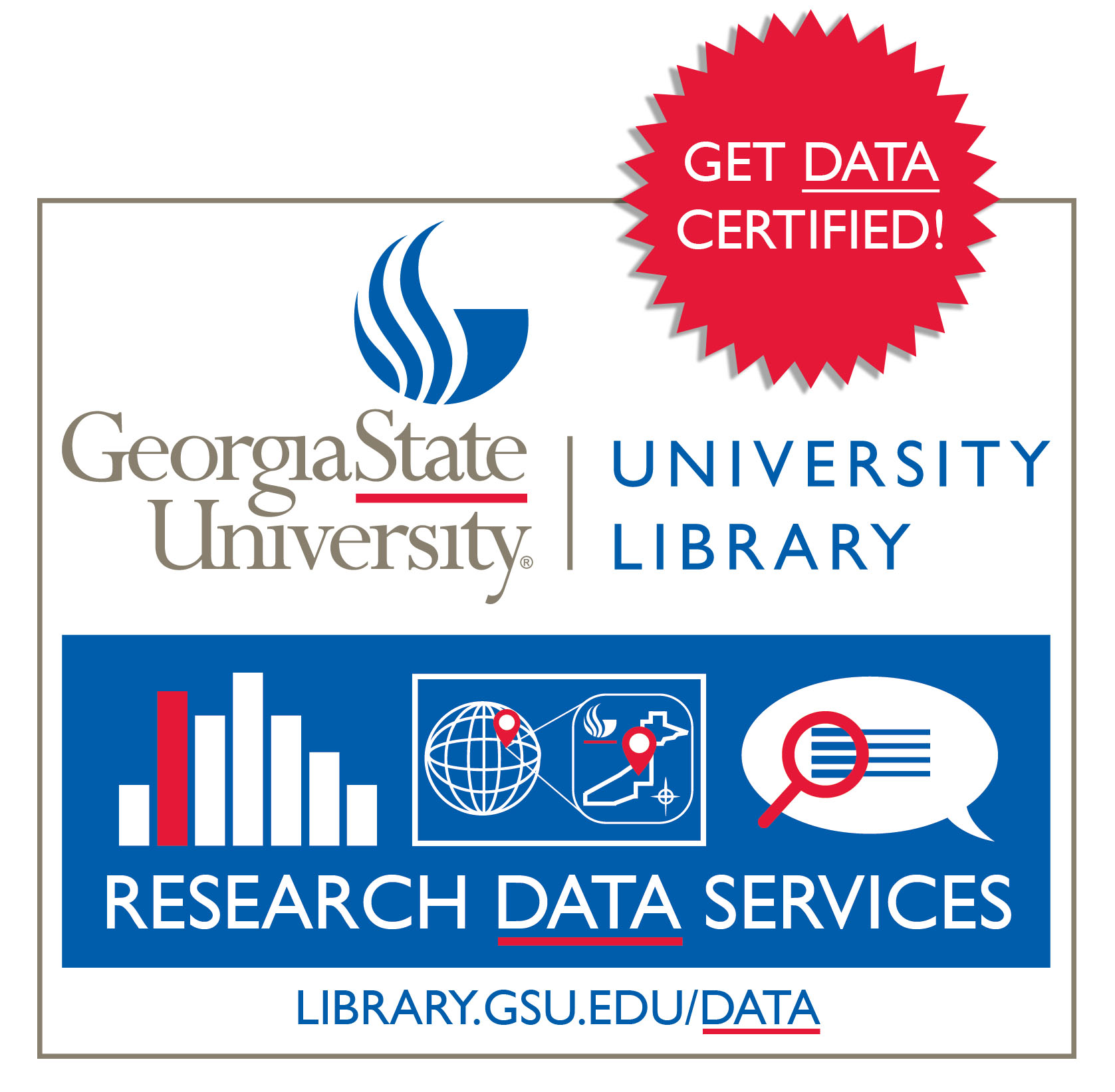 Learn about our various Research Data Services (RDS) workshops on data analysis tools/software, data analysis methods, data visualization and mapping, and finding data.
See the Library Calendar for RDS workshops — look for the logo with the GET DATA CERTIFIED seal (see image at left).
Attend a minimum of five unique RDS workshops in a semester.

Make sure you sign-in on the paper sign-in sheet at the workshop so we can track your attendance.
Going forward in 2019, we will count Summer and Fall semesters together, then Spring semester on its own.
While you're welcome to attend the same workshop multiple times to hone your skills, to earn the data certificate you need to attend a minimum of five *unique* workshops (i.e., if you take Stata 1 twice, it can only count once toward your five workshops — but if you take Stata 1, Stata 2, and Stata 3, those count as three workshops toward the five needed for the certification).
Attending a Data in the ATL talk *does not* count as a workshop toward the certificate.

If you've attended a minimum five unique RDS workshops, you'll be invited to a ceremony where you can mingle with others committed to getting RDS@GSU Data Certified *and* receive a custom certificate signed by our Dean of Libraries and the Leader of the Research Data Services Team (see example below). 

All certificate awardees will also receive a PDF version of the certificate via email.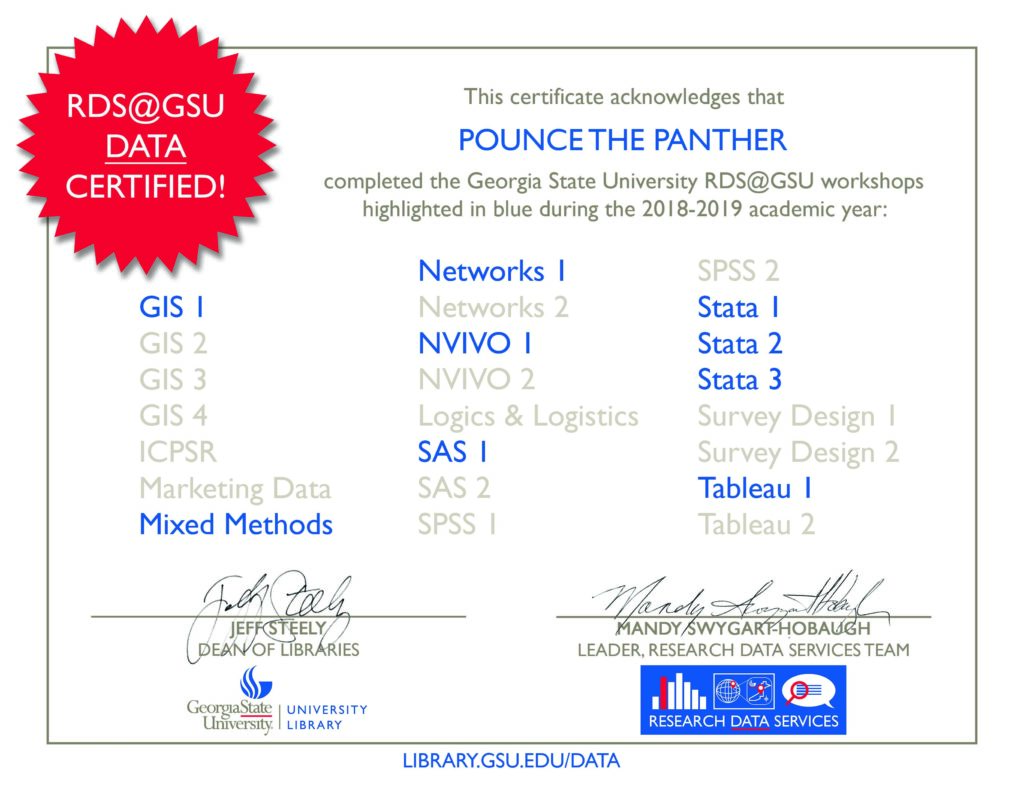 Yes, it's that easy! And by getting RDS@GSU Data Certified, you demonstrate to potential employers that you are committed to growing the data skills that they look for in hires. Last year, we awarded 92 certificates — learn more about those 92 inaugural RDS@GSU Data Certificate awardees! And here is what some of the RDS@GSU Data Certificate awardees had to say about the experience:
The certificate is a great opportunity to become a more competitive candidate while applying for a job. The workshops were very interactive.
I thought the RDS@GSU Data Certification incentivized my participation in the RDS workshops. The workshops themselves were great and it definitely helped me brush up on prior skills and knowledge.
Certification looks amazing on resumes, I also found what was covered useful to my practice of SAS & SPSS.
It is essential for me as a student majoring in Epidemiology. I will be involved in research, and the only way to answer some of the world's health problems is making sense out of data. I'm confident this certificate will prove useful for me in getting a job. The entire program is flexible, and the materials are very helpful in understanding the course content.
So, get RDS@GSU Data Certified! It's free, and it's worth it.