Middle East Studies Center Lecture: Robert G. Hoyland, "The Arab Conquests and the Rise of Islam"
The GSU Middle East Studies Center announces the lecture "The Arab Conquests and the Rise of Islam," by Robert G. Hoyland, on Tuesday, November 29 in the Troy Moore Library, 25 Park Place, 23rd Floor, Room 2343, from 3:00 pm to 4:30 pm.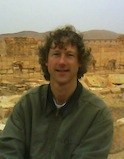 Robert G. Hoyland is New York University's Professor of Late Antique and Early Islamic Middle Eastern History and a faculty member of NYU's Institute for the Study of the Ancient World (ISAW). His interests range from the study of pre-Islamic Arabia to epigraphy, papyrology, the late antique Greco-Syriac world, and, most recently, archaelogy. He has been involved in excavations in Syria, Yemen, Israel/Palestine and Turkey/Kurdistan. He has since begun excavation of the city of Partavi/Barda'a in modern Azerbaijan; this city was the capital of the Christian kingdom of Caucasian Albania and the site of the first Muslim garrison in eastern Caucasus. (from ISAW site).
Prof. Hoyland's publications include:
Prof. Hoyland has also contributed to the Corpus Inscriptionum Ludaeae/Palaestinae: Vol. III, South Coast, 2161-2648: A Multi-Lingual Corpus of the Inscriptions from Alexander to Muhammad (ebook), and translated and introduced Theophilus of Edessa's Chronicle and the Circulation of Historical Knowledge in Late Antiquity and Early Islam (trans. 2011).
This event is free and open to the public. For more information, contact the Middle East Studies Center.