Best Dissertation Award for Andrew Young School Alumna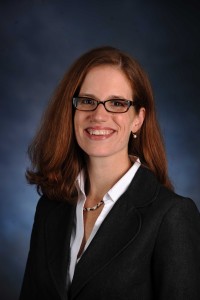 Andrew Young School alumna Elizabeth Searing (Ph.D. in Public Policy '15) was recently awarded the Best Dissertation Award from the Public and Nonprofit Division of the Academy of Management at its annual meeting in Anaheim, California, for her work in nonprofit administration and strategy.
The Academy of Management, a national professional organization for management academics, honored Searing for "Beyond Liabilities: Survival Skills for the Young, Small, and Not-for-Profit."
Searing's research focuses on the economics of nonprofits and the process of helping nonprofit organizations recover from financial vulnerability and identify future sources of funding. She is also interested in the intersection of nonprofits and social enterprise in terms of nontraditional funding sources. The committee was particularly impressed with Searing's commitment to previously ignored areas of nonprofit study.- Erin Haire

Other works by Searing:
Lugo, Kristina, and Elizabeth A.M. Searing. "The Impact Of Situational Factors On Forum Choice And Criminal Justice System Development In Bangladesh." Emory International Law Review 29.1 (2014): 327-378.
Searing, Elizabeth A.M., Fernando Rios-Avila, and Jesse D. Lecy. "The Impact Of Psychological Trauma On Wages In Post-Conflict Bosnia And Herzegovina." Social Science & Medicine 96.(2013): 165-173.
Searing, Elizabeth A.M. "Love Thy Neighbor? Recessions And Interpersonal Trust In Latin America." Journal Of Economic Behavior And Organization 94.(2013): 68-79.