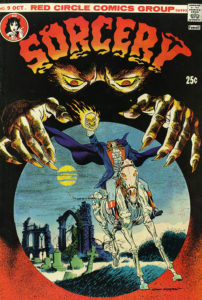 Kevin Fleming, Popular Music and Culture Archivist, and Jill Anderson, History/African-American Studies/Women's, Gender, and Sexuality Studies Librarian, are offering a "Teaching with Primary Sources: Comic Books and Context" workshop for faculty and graduate students. This workshop will be held on Wednesday, October 25, from 1 p.m. to 2:30 p.m, and will take place in the Colloquium Room, Library South 8, on the downtown Atlanta campus.
In this hands-on workshop, attendees will be the "students" for several exercises utilizing comic books from Special Collections & Archives' Popular Culture Literature Collection and other related primary sources. The exercise will be followed by discussion and brainstorming on other creative ways to use these resources for teaching.
This workshop is a follow-up to our Spring 2017 workshop "Teaching with Primary Sources: Popular Culture and Pulp," but will incorporate new activity, so is also a stand-alone workshop. Prior attendance at our spring workshop is not at all necessary. We invite you to attend as our "students"!
Register for the workshop here.
Want to know more? Contact Jill Anderson or Kevin Fleming with questions.
Image: Red Circle Sorcery No. 9, Series V: Comic Books, Popular Culture Literature Collection, M225, Popular Music and Culture Collection, Special Collections and Archives Department, Georgia State University, Atlanta.