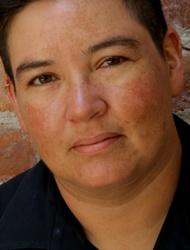 The Institute for Women's, Gender, and Sexuality Studies, the Department of African-American Studies, the Department of Anthropology, and the Center for Latin American and Latino/a Studies, announce this year's Anne L. Harper Annual Lecture, to be delivered by Dr. Marcia Ochoa, "Queen for a Day: Transformistas, Beauty Queens, and the Performance of Femininity in Venezuela," on Wednesday, March 23, in Centennial Hall, Room 120, from 5:30 p.m. to 7:00 p.m., with a reception preceding the lecture at 5:00 p.m. This lecture is also co-sponsored by SPEAK and Faces of Feminism.
Dr. Ochoa is Associate Professor and Director of Feminist Studies at the University of California at Santa Cruz. Her research interests are in transgender studies, gender and sexuality, race and ethnicity, Latina/o studies, media and cultural studies, ethnography of media, feminism, queer theory, multimedia production, Latin American studies (Colombia and Venezuela), citizenship and social participation, Social Documentation, and colonial historiography. More specifically, as she notes on her department page, her work "focuses on the role of the imaginary in the survival of queer and transgender people in Latin America, and the place of these subjects in the nation."
Her publications include:

Dr. Ochoa also works with El/La para TransLatinas in San Francisco's Mission District, developing programming and social justice work promoting transgender Latina participation and reflecting the style and grace of translatina survival. She is also co-editor of GLQ: A Journal of Lesbian and Gay Studies (available online via the GSU Library).
Centennial Hall is located at 100 Auburn Ave NE, Atlanta, GA 30303, on the corner of Courtland Street NE and Auburn Ave NE. Visitor parking is available in M deck for a $7 fee. M deck is located on Auditorium Place, one block south of intersection of Courtland and Piedmont.
This event is free and open to the public. For further information,  please contact the Institute for Women's, Gender, and Sexuality Studies directly.