Come Try VR Gaming in the Atlanta Campus Library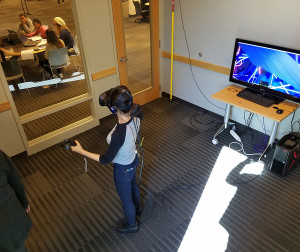 The Atlanta Campus library now features a HTC VIVE headset and experiential space for virtual reality (VR) experimentation and gaming.
Thanks to the Library Innovation Fund, we are able to add the VIVE to the library technology collection for research and education purposes. To guarantee high quality VR performance, the library also added high-performance Alienware gaming PC to be used with the VIVE. Now, students have some of the best VR gaming hardware available! We invite the campus community to come out and try this exciting new technology. Some games / apps currently available on VIVE include:
The Library has dedicated Library North 275 as a VR testing room. The device can be checked out at the technology desk on the 2nd floor of Library North with online room reservation. Reservations will become available online on Monday, Nov. 14th.
Want to learn more about VR? We have you covered! Check out our VR collection in the catalog.
Want to request a game purchase? Contact Ximin Mi, your business data librarian, at xmi@gsu.edu.