Registration Begins for New Biometric Scanners at Atlanta Campus Library Entrances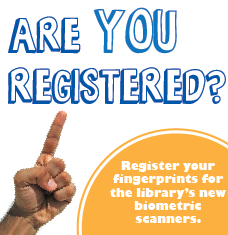 Over the winter holiday break, Georgia State University will replace the turnstiles at the Atlanta Campus Library North and Library South entrances with new, swinging glass gates. At the same time, the mechanism for secure access to the Library will change. We are replacing the current card readers with biometric readers, which use a fingerprint to identify GSU students, faculty, and staff. These are the same devices already in use in campus dining halls.
Since the same system will be used for Library access, anyone who has previously registered fingerprints for dining hall access, or when picking up their PantherCard, will not need to re-register. However, in order to have seamless access to the Library when we return in January, now is the time for everyone else to register with Auxiliary Services.
Registration Locations
Registration is available at the PantherCard Office in the University Bookstore Building. As a convenience to Library users, registration stations will also be set up in the lobby of Library North from 10 a.m. to 2 p.m., Monday – Friday, for the rest of the fall semester.
Please note: Users must present an active PantherCard at the time of registration.
Library users are encouraged to take advantage of this opportunity in order to help prevent long, slow lines at the Library entrances in January!
Frequently Asked Questions
Does the system store my actual fingerprints? No actual fingerprints are captured or stored by the system. The system takes measurements of geometric features of the finger and then applies a series of computer operations, or algorithms, to create a unique alphanumeric value that is the only information related to the fingerprint stored in the system.
Who else is using biometrics? The specific system being used on Georgia State University's campus is also used by the FBI, demonstrating the system has been used previously in complex security situations. Biometric systems for security, in general, are becoming more widespread across university campuses.
How will biometric data be protected? Both the fingerprint identification terminals and the server used to store the value associated with a fingerprint are behind firewalls. Firewalls are designed to prevent malicious attempts to access data on the university's network.
What will happen to my biometric data after I graduate/leave GSU? Auxiliary Services, in partnership with Instructional Innovation and Technology, will implement automated procedures for disposing of data stored in the system, such that the stored data would have a lifespan of six (6) months or less after students, faculty or staff leave the university, further reducing chances for unintended usage.
If you have questions, please contact the University Library.