Upcoming Speaker Event: Michele Moore, Author of "The Cigar Factory"
The University Library is proud to host Georgia State University alumna and author Michele Moore for a special discussion of her recently published novel, The Cigar Factory: A Novel of Charleston.
Date: Tuesday, November 1
Time: 2:30 p.m.
Location: Ceremonial Auditorium, Georgia State University College of Law
Cost: Free
Admission for Georgia State University students, faculty, and staff is on a walk-in, space-available basis. Non-GSU affiliated attendees are asked to RSVP to receive tickets and additional information regarding library admittance.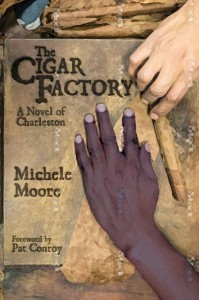 About The Cigar Factory: A Novel of Charleston
The Cigar Factory tells the story of two entwined families, both devoutly Catholic—the white McGonegals and the African American Ravenels—in the storied port city of Charleston, South Carolina, during the world wars. Moore's novel follows the parallel lives of family matriarchs working on segregated floors of the massive Charleston cigar factory, where white and black workers remain divided and misinformed about the duties and treatment each group receives.
Moore's extensive historical research included interviews with her own family members who worked at the cigar factory, adding a layer of nuance and authenticity to her empowering story of families and friendships forged through struggle, loss, and redemption.
About Michele Moore
Michele Moore has served as a fellow in the English Department at Piedmont College in Demorest, Georgia. She was a 2006 finalist for the Bellwether Prize for Literature. Her creative nonfiction has been broadcast on Georgia Public Radio and published in the Louisville Review, Habersham Review, ACM (Another Chicago Magazine), Groundwater, and O, Georgia. She has also won awards and grants from the Kentucky Foundation for Women, the Kentucky Arts Council, and the Kentucky Chapter of the National Society of Arts and Letters.