Turner Field in the AJC Photographic Archives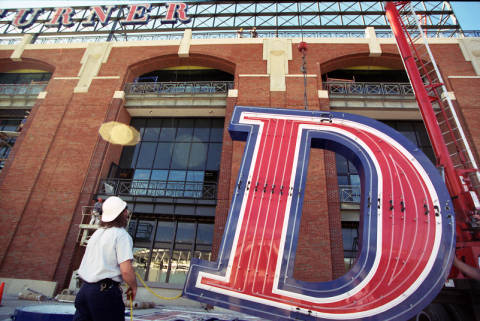 Last Sunday, the Atlanta Braves played their final game at Turner Field. The stadium has been a Major League Baseball park since 1997, having been built originally as Centennial Olympic Stadium for the 1996 Summer Games. The Braves are relocating to Cobb County, and once they have moved out, the stadium will enter its third phase. Recently, the Georgia State University Foundation finalized its purchase of the stadium and surrounding lots. The University Library, in the Atlanta Journal-Constitution Photographic Archive, already has extensive documentation of Turner Field's first two configurations.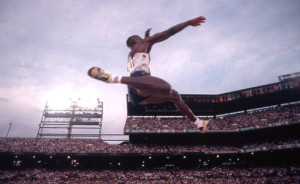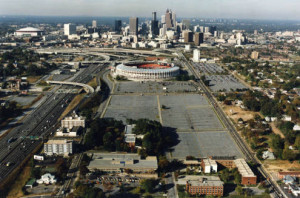 The stadium was part of the massive development that occurred in Atlanta before it hosted the Olympic Games, and was planned so it could be reconfigured for the Braves. Originally seating 85,000, the stadium was built next to the first Atlanta home of the Braves and Falcons, Atlanta-Fulton County Stadium.
When Centennial Olympic Stadium was renovated for baseball, 30,000 seats were lost and the outfield seating and plaza created. Both stadiums were in use during the Olympics, and Atlanta-Fulton County was demolished in 1997. Between the two parks, the Braves played 51 seasons in Atlanta's Summerhill neighborhood, although the area was usually an expanse of empty parking lots when no game was scheduled.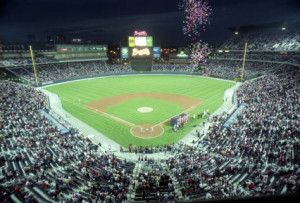 When the Braves moved into the reconfigured stadium, it was renamed for Braves owner Ted Turner, whose cable channel had made the Braves ubiquitous. The two most important events in Atlanta Braves history – Hank Aaron's record breaking home run in 1975 and their 1995 championship season – occurred in Atlanta-Fulton County Stadium, but the Braves' years at "the Ted" will be remembered for the excellent teams that won 10 pennants there.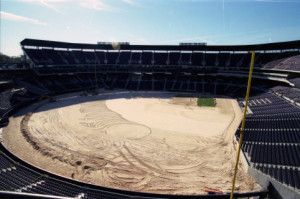 With their move to Cobb County, the Braves are cutting some ties to their past, including the Turner name, but embracing new beginnings. Georgia State University's anticipated move into the Turner Field area will also turn the page for the stadium neighborhood.
Here are some further resources that might be of interest: