Digital Mapping Project Utilizing Georgia State, Emory University Library Resources Receives Knight Foundation Grant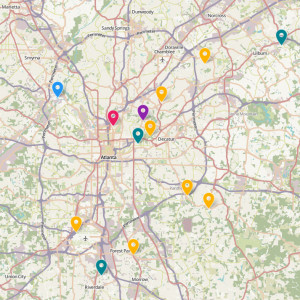 Georgia State and Emory Universities' ATLMaps collaborative digital mapping project was one of 14 projects to win the 2016 Knight News Challenge on Libraries.
Sponsored by the John S. and James L. Knight Foundation, the 2016 Knight News Challenge served as an open call for ideas focused on advancing libraries to better serve individuals and communities in the 21st century. More than 600 ideas were submitted for consideration.
As winners of the challenge, project leads Brennan Collins (Center for Instructional Effectiveness, Georgia State University) and Megan Slemons (Geographic Information Systems Librarian, Emory Center for Digital Scholarship) were awarded a $35,000 grant from the Knight Foundation to continue their work on ATLMaps.
The project combines archival maps, geospatial data visualization, and user-contributed multimedia location pinpoints to promote investigation into any number of issues about Atlanta. It incorporates many digitized resources from both Emory and Georgia State University Libraries, including materials from the Georgia State University Library's Planning Atlanta, MARTA, and Works Progress Administration of Georgia Atlanta Maps collections.
Georgia State University's portion of the award will be used to fund Student Innovation Fellowships. Student fellows will add content to the project and enhance the ATLMaps website's search and customization capabilities.