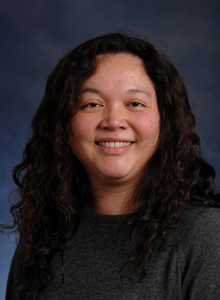 Congratulations to Dr. Yu-Ping Chen and her colleagues in the Georgia State University Department of Physical Therapy and the Center for Pediatric Locomotion Sciences on the recent publication:
Chen YP, Caldwell M, Dickerhoof E, Hall A, Odakura B, Morelli K, Fanchiang HC. Game Analysis, Validation, and Potential Application of EyeToy Play and Play 2 to Upper-Extremity Rehabilitation. Rehabil Res Pract. 2014.
Dr. Chen studies the effectiveness of novel physical therapy interventions in improving upper-extremity function in children with developmental disabilities, primarily in children with cerebral palsy and infants born prematurely who are at high risk of developing cerebral palsy.
Dr. Chen collaborates with Dr. Ayanna Howard at Georgia Institute of Technology's Institute for Robotics and Intelligent Machines trying to develop an affordable virtual-reality game system called Super Pop VRTM.  With funding from the National Science Foundation and the Center for Transforming Pediatric Healthcare Delivery they are conducting clinical trials to examine the effects of virtual reality and robotic therapy to train arm function in children with cerebral palsy.
Other publications by Dr. Chen include the following:
Fanchiang HD, Geil M, Wu J, Chen YP, Wang YT.    The Effects of Vibration on the Gait Pattern and Vibration Perception Threshold of Children With Idiopathic Toe Walking.  J Child Neurol. 2014 Sep 26.
Chen YP, Pope S, Tyler D, Warren GL. Effectiveness of constraint-induced movement therapy on upper-extremity function in children with cerebral palsy: a systematic review and meta-analysis of randomized controlled trials.   Clin Rehabil. 2014 Oct;28(10):939-53.
Chen YP, Lee SY, Howard AM.   Effect of virtual reality on upper extremity function in children with cerebral palsy: a meta-analysis.  Pediatr Phys Ther. 2014 Fall;26(3):289-300.
Chen YP, Howard AM. Effects of robotic therapy on upper-extremity function in children with cerebral palsy: A systematic review.  Dev Neurorehabil. 2014 Apr 11.
García-Vergara S, & Chen Y, Howard A.  Super Pop VRTM: An Adaptable Virtual Reality Game for Upper-Body Rehabilitation.  In: Shumaker R, editor. Virtual, Augmented and Mixed Reality. Systems and Applications. Volume 8022, Lecture Notes in Computer Science: Springer Berlin Heidelberg; 2013. p 40-49.
Learn more about the use of virtual reality systems in healthcare with these books at the Georgia State University Library.