Library Distributes Peter Suber's Open Access to New Faculty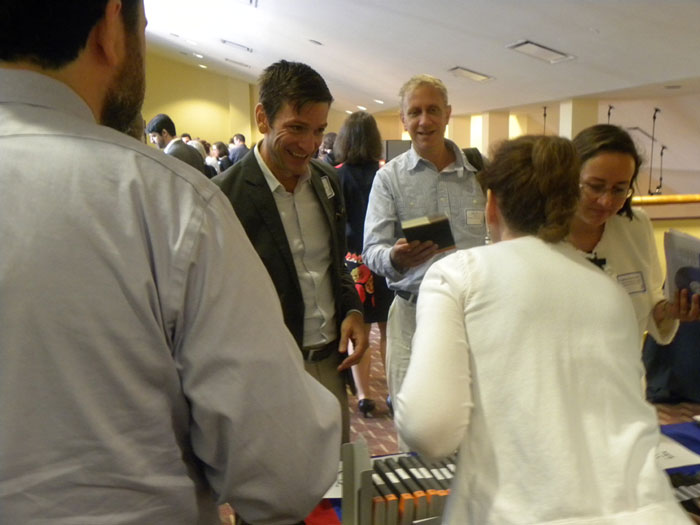 According to Peter Suber's new book Open Access: "When a library must provide access for thousands of faculty and students working on tens of thousands of topics, and when the volume of new works grows explosively every year, price barriers become insurmountable."
The barriers to research that Suber mentions harm authors and readers both. But there is an alternative. Researchers still have the ability to share their work with a worldwide audience for free. Research that is "digital, online, free of charge and free of most copyright and licensing restrictions" is termed "open access" within the academic community.  To Suber, "Open access benefits literally everyone, for the same reasons that research itself benefits literally everyone."
Georgia State University Library agrees with Suber about the benefits of open access. On August 16, 2012 the library distributed copies of Suber's book to new faculty and administrators on campus. Included with every book is a bookmark with information on the open access publishing philosophy and the Digital Archive @ GSU, a repository that highlights the research and scholarly productivity of members of Georgia State's community. Unpublished submissions to the Digital Archive @ GSU allow authors who retain copyright (or permission to post a published article in a repository) to use the digital archive to expand access to their work.
This is especially important given that Cambridge University Press, Oxford University Press and SAGE Publications filed suit against Georgia State University in 2008, arguing that the university violated copyright law by allowing its professors to provide students free electronic access to selected portions of certain textbooks. A week before the library distributed Suber's book, Georgia State University prevailed in this lawsuit, in a precedent setting decision that could help determine the future of copyright law in the digital age.
Some of the faculty involved in this lawsuit had placed their own work on reserve for their students. But these researchers had signed away their rights to their own work and were investigated for sharing and teaching from it. By promoting open access publishing on campus, the library hopes to assist faculty in making their work available to a broader audience again.
Photos below show Georgia State University librarians distributing Suber's book to new faculty.