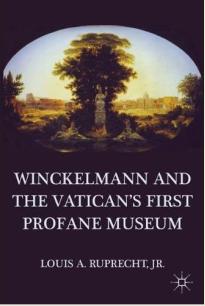 Congratulations to Louis A. Ruprecht, Professor in the Department of  Religious Studies, for the publication of his most recent book Winckelmann and the Vatican's First Profane Museum.
In this work, Dr. Ruprecht provides the first historical account of the foundation of the Vatican's "Museo Profano," demonstrating how it was the brainchild of Johann Joachim Winckelmann, the eighteenth-century German art historian and archaeologist, and so-called father of Art History. Based on years of research inside the Vatican's Secret Archives, Dr. Ruprecht provides an interesting look at the relationship between the sacred and profane, as well as the idea of beauty, in religion and art in the modern world.
Dr. Ruprecht is the William Suttles Chair in the Department of Religious Studies and an affiliate faculty member with the Hellenic Studies Center and the Center for Collaborative Scholarship in the Humanities.  He is also a research fellow of the Vatican Library Secret Archives and a staff writer for Religion Dispatches. 
Other books authored by Dr. Ruprecht, include: