M.H. Ross Papers Highlights
For this final blog post about the M.H. Ross Papers, the team who worked on the digitization project are highlighting our favorite pieces from the collection.
Kathryn Michaelis, Digital Projects Coordinator, Digital Library Services
Over the course of this year, I have spent a lot of time with the oral histories in the Ross collection. My choices reflect the general nature of these recordings and highlight Ross' down-to earth personality.
Coal miners (Hess, Hornyak, Elekes, Belotsky, Merriweather), interviewed by M.H. Ross, 1971-05-17
This is an interview that Ross did with a group of coal miners who talk about their work and unionizing experiences in the early 20th century. You can tell that Ross loved talking to miners, and he encouraged them to express their true opinions and to talk about their lives honestly.
M.H. Ross, interviewed by Jane Ross Davis, 1986-09-16 (part 2)
Of the nearly 200 audio and video recordings in the collection, there are six recordings of Mike Ross being interviewed by his daughter Jane "Jancy" about his life. They all contain detailed descriptions of his experiences, and this is the beginning of the audio (the first part is transcript only). I love hearing him talk about his life in such an informal, unvarnished way.
Jeremy Bright, Library Technical Assistant – Digital Projects, Digital Library Services
For me, this is representative of Ross' commitment to progressive values at a very early stage in his life and career. Not only did Ross volunteer his time for other progressive candidates and organizations, but he ran his own campaigns for both local and national politics, embracing a political platform that would still be considered progressive 70 years later. Through his papers, Ross' passion and dedication to addressing and remedying racism, anti-semitism, sexism, and prejudice of all forms is made clear.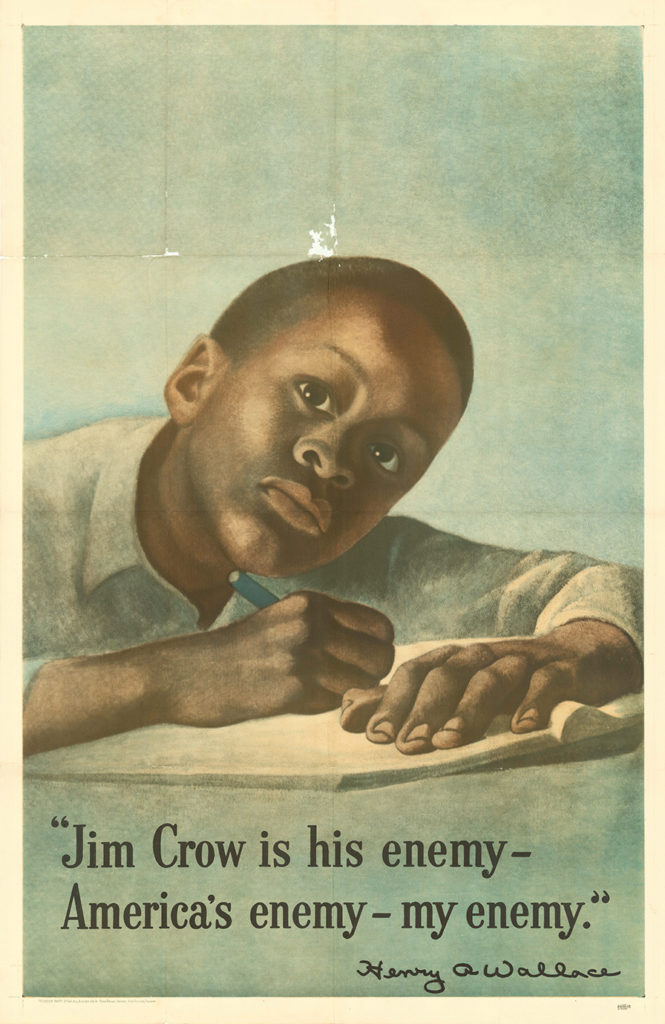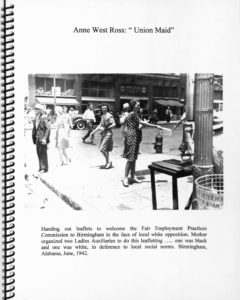 This is one of my absolute favorite documents in the Ross collection. Created by his daughter Jane Ross Davis, this booklet compiles and contextualizes news clippings, correspondence, songs from the labor movement, and photographs to describe her relationship to her family and the "family business," specifically focusing on her mother. Anne West Ross, Mike Ross' wife, was a union organizer in her own right and continued to dedicate herself to the labor movement (as well as a host of other progressive causes) after marrying Ross and beginning a family with him. There are so many moments in which she is the pivotal figure in Ross' success, and this booklet is a way of engaging with that history.
Laurel Wilson, Sponsor Funded Office/Clerical, Library Technical Assistant, Digital Library Services
I've come to greatly admire Mike Ross and his wife Anne (Buddie), and their lifelong commitment to empowering the American people most in need, even at great personal cost. My selections are representative of Ross' unwavering belief in the power of the people; that hardworking men and women of all walks of life can participate in the American Dream if united in the pursuit of fairness and opportunity for all.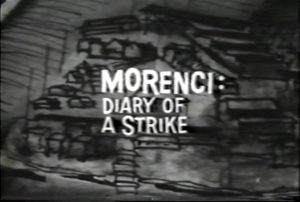 Morenci: Diary of a Strike is a film produced by the United Steelworkers of American to document the strike of Phelps Dodge Corporation copper miners in Morenci, Arizona in 1955. This rare film provides an excellent education on the inner workings of a strike in the middle of the 20th century and highlights not only the diversity and closeness of a family-oriented union community, but the strength of unity and cooperation in labor, as well. This film also features Mike Ross in his role as union arbitrator.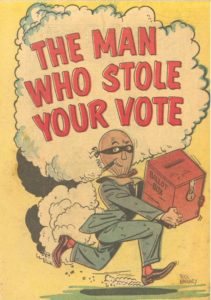 The Man Who Stole Your Vote speaks to the eclectic nature of the M.H. Ross Papers. This educational comic book, released in 1952 by the National Research Bureau as part of the Good Government Series, colorfully teaches the power of representation—or lack thereof. American enfranchisement has been hard-fought and won through generations, and this material very well fits in with Ross' belief in equal, participatory government.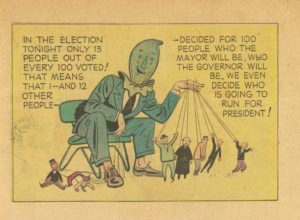 The M.H. Ross Papers is available online thanks to a $48,865 grant from the National Historical Publications and Records Commission. You can explore the collection or get started with the Finding Aid
Previous M.H. Ross Blog entries:
New Digital Collection: M.H. Ross Papers
M.H. Ross Runs for City Council in Charlotte
A Young Man of Conviction – The Early Years of M.H. Ross
Sacrifice – The Rosses in the South
Panel to Discuss M.H. Ross: Labor Leader and Coal Miner's Advocate