Curating Women in Sports Exhibit
Samantha Harvel has been working in Special Collections for five years – first as an Honors College student and then as a Graduate Research Assistant. Throughout those years, Sam has done amazing work, arranging and describing collections, and creating our annual women's exhibits. We are proud to share Samantha's thoughts about her most recent exhibit, "Equal Playing Fields."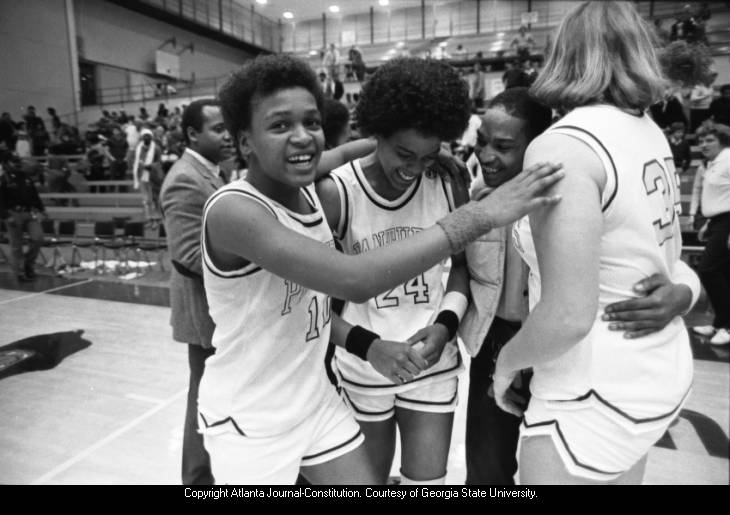 Being from the rural South, I have been instilled with a robust knowledge of college football. However, my familiarity with sports ends there. When I started working on this exhibit, I was embarrassed to realize how much I did not know about women's sports and their history. Growing up in the late 90s through the 2010s, I was surrounded by opportunities to play sports of all kinds. Though I chose not to participate in most of them, their existence is something that I took for granted.
In the early 1900s, there was a popular belief that intense sporting activity would be harmful to the female body, especially to their reproductive organs. This meant that contact sports were strongly discouraged, as were competitive sports. It wasn't until World War II, when a significant number of American men were gone, that professional women's sports gained any sort of traction and national attention in the form of baseball.
Working on the exhibit, I learned that as recently as 50 years ago, K-12 and intercollegiate sports for girls and women were extremely limited in many areas, with schools often only offering one or two options, if any. Even in schools with more opportunities, the funding disparity between women's and men's sports was significant. After Title IX, there was a marked improvement in sports equality. However, in 2000, Georgia passed the Equity in Sports Act because a majority of schools in the states were not in compliance with the law even after almost 30 years.
My research for this exhibit showed that this is an issue that legislation alone cannot fix. Equality between men and women's sports requires cultural change. Even with all these advances, there are still countless instances of inequity, as we've seen recently in the news with controversies surrounding Serena Williams, transgender athletes, and the NCAA Women's Championship. Nevertheless, girls today have grown up with far more female athlete role models than their grandmothers had. The progress we've made in the last 50 years gives me hope for the future, but there are fundamental beliefs about sports that need to change to achieve truly Equal Playing Fields.