Special Collections' GRA Working on Podcast History of AIDS in Atlanta
Deniseya Hall has become an indispensable part of the Special Collections & Archives team over the last year. She has worked diligently on a variety of outreach projects, but has focused most of her time on pulling together research and audio as part of a new podcast the department is developing. We wish Deniseya much success as she graduates this May! We're proud to present the following blog post, written by Deniseya.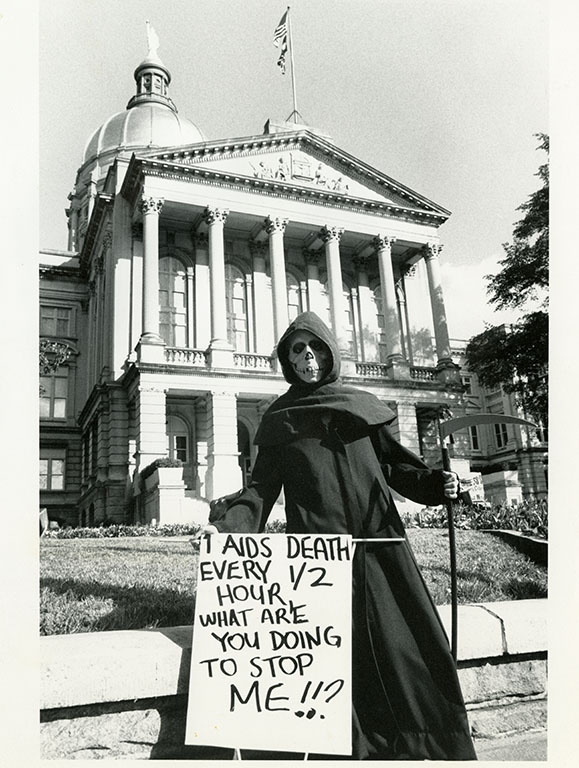 "ACT UP, FIGHT BACK, FIGHT AIDS!" was a slogan commonly used by AIDS Coalition to Unleash Power, better known as ACT UP. Led by Larry Kramer, this grassroots organization was formed in 1987 in New York before expanding globally. Their goal was, and still is, to take political action in order to improve the lives of individuals with AIDS through awareness and education.
Members of the Atlanta chapter of ACT UP protested at the Center for Disease Control (CDC) on January 8, 1990, and the Georgia State Capitol on December 3, 1990, with two demands. The first, according to Jeff Graham, "was adding a T-cell count to the definition of AIDS." The other demand was "adding a handful of gynecological manifestations that were very specific to women, into the definition of AIDS." Graham's oral history, which includes memories of ACT UP, AIDS discrimination, and the pandemic, are some of many stories nestled in the Gender and Sexuality Collection repository. Interviews from the collection provide intimate details of people directly impacted, signifying a powerful message of collective voices fighting for change.

Jennie Law and Morna Gerrard are working on a podcast series focused on the ACT UP Atlanta protests. I have been fortunate to be part of developing that podcast through my graduate research assistant internship. Implementing my public history training has helped me address the inclusion of minorities and marginalized voices for the podcast. I have conducted independent research utilizing the CDC Global Health Chronicles series, gathering narratives on children infected with the virus as well as AIDS impact on black communities. My work also includes applying time stamps, written descriptions, and selecting excerpts for the podcast from recorded interviews collected thus far by the team.
We are steadily progressing on the project. Learning the intricacies of podcasting and all that goes into its success has been quite an illuminating experience. I have enjoyed developing interview techniques that evoke thoughtful answers. An overall highlight has been learning the necessity of building relationships that leads to the donation or rare materials that benefit research and exhibit creation. These donations grow GSUs archives and collections, serving as a platform for underrepresented history. I am proud to be part of the team and anticipate the first episode of the podcast!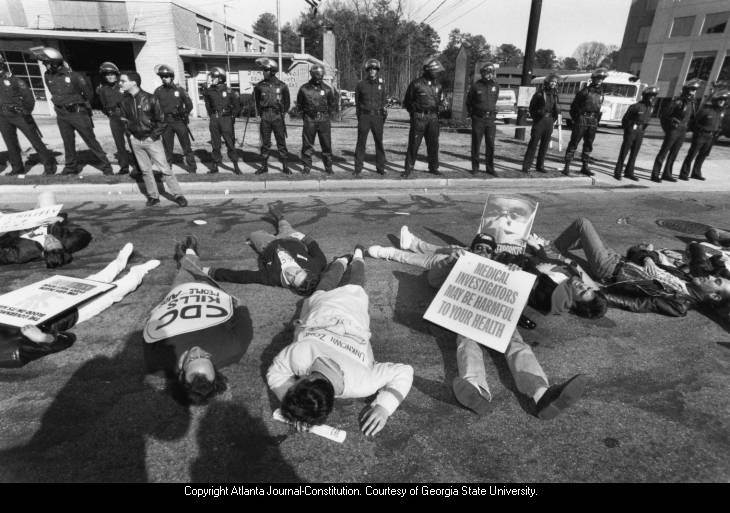 For more information about ACT UP Atlanta, check GSU's Library Exhibit Out in the Archives highlighting parts of Atlanta's LBGTQ+ community.