Things We Already Have and How to Find Them More Easily
It can be difficult to locate items the library provides for the campus, and it can be hard to authenticate to access those items properly. This post provides tips and tools to get you the resources you need.
Library Website
Our electronic resources are accessible via authenticated access with your CampusID and password. One way to make sure you authenticate is to access resources via the Library Website. In addition to a Discover search (articles, ebooks, journals, and more), you can set the search bar on the homepage to jump directly to the Catalog or a Journal Search.

You can search individual databases from the homepage links. Selecting "All" will bring you to our complete A-Z list of databases which you can filter by academic subject or vendor.

As long as you start on the Library Website, you will be prompted to log in when you try to access any content that requires authentication.
LibKey Nomad
LibKey Nomad is a browser extension that helps connect you to library-licensed ebooks and both subscription and open-access articles while browsing the web. It is active at sites researchers commonly visit, including publisher sites, Amazon, Wikipedia, and PubMed. If the full text is unavailable within GSU subscribed content, you will be given the option to request an article through InterLibrary Loan. Instructions for adding and configuring the extension are at https://research.library.gsu.edu/libkey/libkeynomad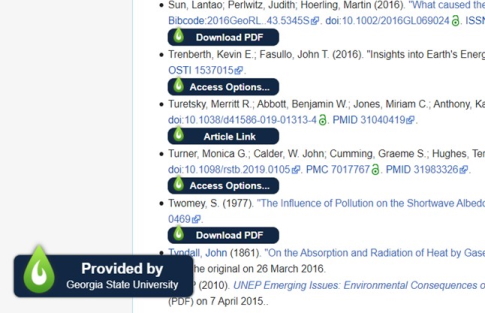 Google Scholar
Google Scholar lets you connect your Google Account to the Georgia State University Library. Once you create this connection, you can easily access library-licensed articles. Instructions for linking your account are here: https://research.library.gsu.edu/googlescholar. Once your account is connected, you'll see Find It @ GSU Links next to articles when the library has a subscription.

BrowZine
BrowZine is a service that lets you browse, monitor, and read scholarly journals in your subject areas on your mobile device or computer. It consolidates academic journal articles from GSU Library subscriptions and open access collections and organizes them into an easily browsable newsstand format. With BrowZine, you can browse by title or subject to find journals of interest, view the tables of contents of journal issues, read recent articles or entire journal issues, customize your personal bookshelf with journals you want to track, and receive notifications when new articles are published. You can also download and save articles for offline reading. BrowZine includes most of the scholarly journals to which the library directly subscribes. Newspapers, aggregator content, trade journals, and popular journals are excluded. Here is a list of participating publishers. To learn more about Browzine and how to set up an account, go to https://research.library.gsu.edu/browzine.
Retiree Access
One concern reflected in the survey responses was whether faculty would still have access to library resources after retirement. Official GSU Faculty retirees retain the same privileges they had before retiring. A faculty member must get a retiree PantherCard from the PantherCard office to maintain access. Online resources, such as databases and journals, remain available using a current GSU Campus ID and password. Borrowing and interlibrary loan privileges remain the same as for active faculty. Retired faculty need to be sure to check their GSU email regularly. We will communicate with you through your GSU email, and the Campus ID system will send you notices when you need to set a new Campus ID password.
Hopefully, this post will help make it easier for you to access the many resources the library provides to the GSU community. We are always ready to help, so please don't hesitate to contact us with any questions or suggestions.