New Database: Sex and Sexuality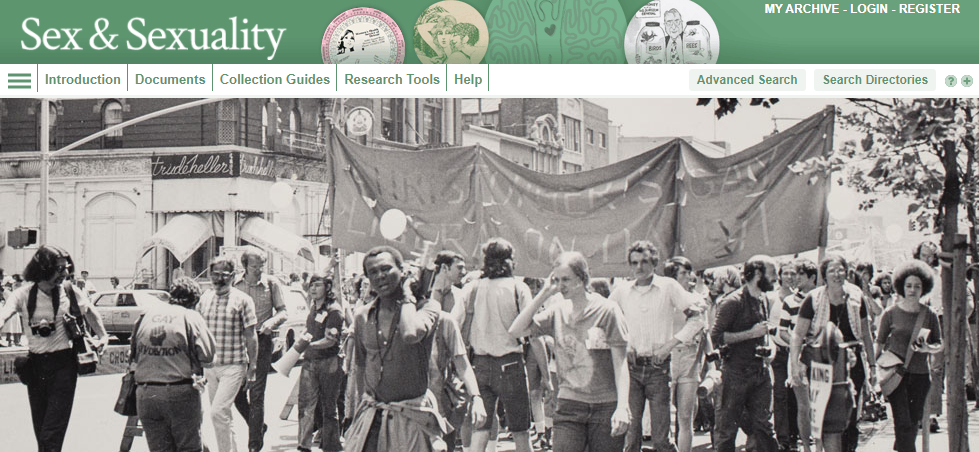 We're pleased to announce that the GSU Library now provides access to the Adam Matthew Digital primary resource database Sex and Sexuality.
Sex and Sexuality has two modules. Module I contains the digitized research collections from the Kinsey Institute Library & Special Collections, including correspondence, research papers, and records spanning the tenures of the first three Institute directors: Dr. Alfred C. Kinsey (1947-1956), Dr. Paul H. Gebhard (1956-1982), and Dr. June Reinisch (1982-1993).
Module II: Self-Expression, Community, and Identity contains primary source documents "focused upon the lived experiences of individuals from across the spectrum of human sexuality, including heterosexual and LGBTQI+ experiences, at different times in history – specifically from the nineteenth century up to the present day." (publisher's information)
While Module II includes further collections from the Kinsey Institute, its focus is more on everyday experience in addition to the papers of sex researchers and medical practitioners. Module II includes primary source materials from other collections, including the USC Libraries' ONE Archives, the National Archives UK, the Edward Carpenter Papers, the Norman Haire Collection, the National Lesbian and Gay Survey, the Anne Lister Diaries, and the British Film Institute.
Sex and Sexuality includes many manuscript (that is, handwritten) materials that are fully searchable thanks to Handwritten Text Recognition (HTR) technology – to learn more about this technology, click here.
Document types included in Sex and Sexuality include but are not limited to:
Advice Columns
Audio
Conference Materials
Correspondence
Diaries
Financial Papers
Newsletters
Objects

Photographs
Questionnaires
Research Briefs
Sexual accounts
Statistics
Surveys
Unpublished Manuscripts
Videos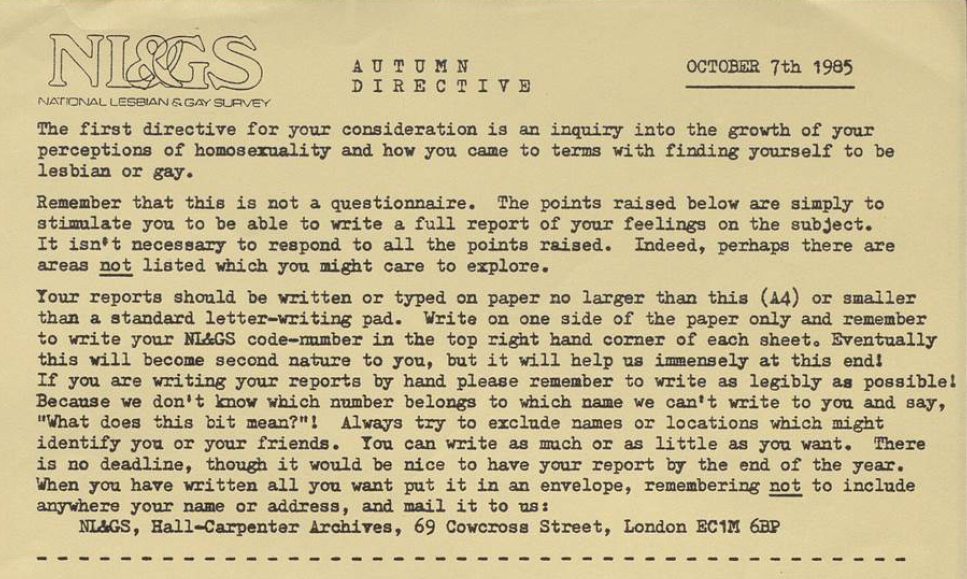 National Gay & Lesbian Survey, "Autumn Directive," October 7, 1985, Series One Directives, 1985-1994, © Material sourced from the Mass Observation Archive at the University of Sussex. (Image cropped for this blog post)
Before you use Sex and Sexuality: be aware that this database contains material of a sexually explicit nature. Content includes, but is not limited to, descriptions and imagery of sexual violence; non-consensual sexual activity; sexual activity including minors; surgery and suicide. You will be asked to verify that you are of the age of consent in the country that you are in before you are allowed into this database.