Congrats to our RDS@GSU Data Certificate Awardees!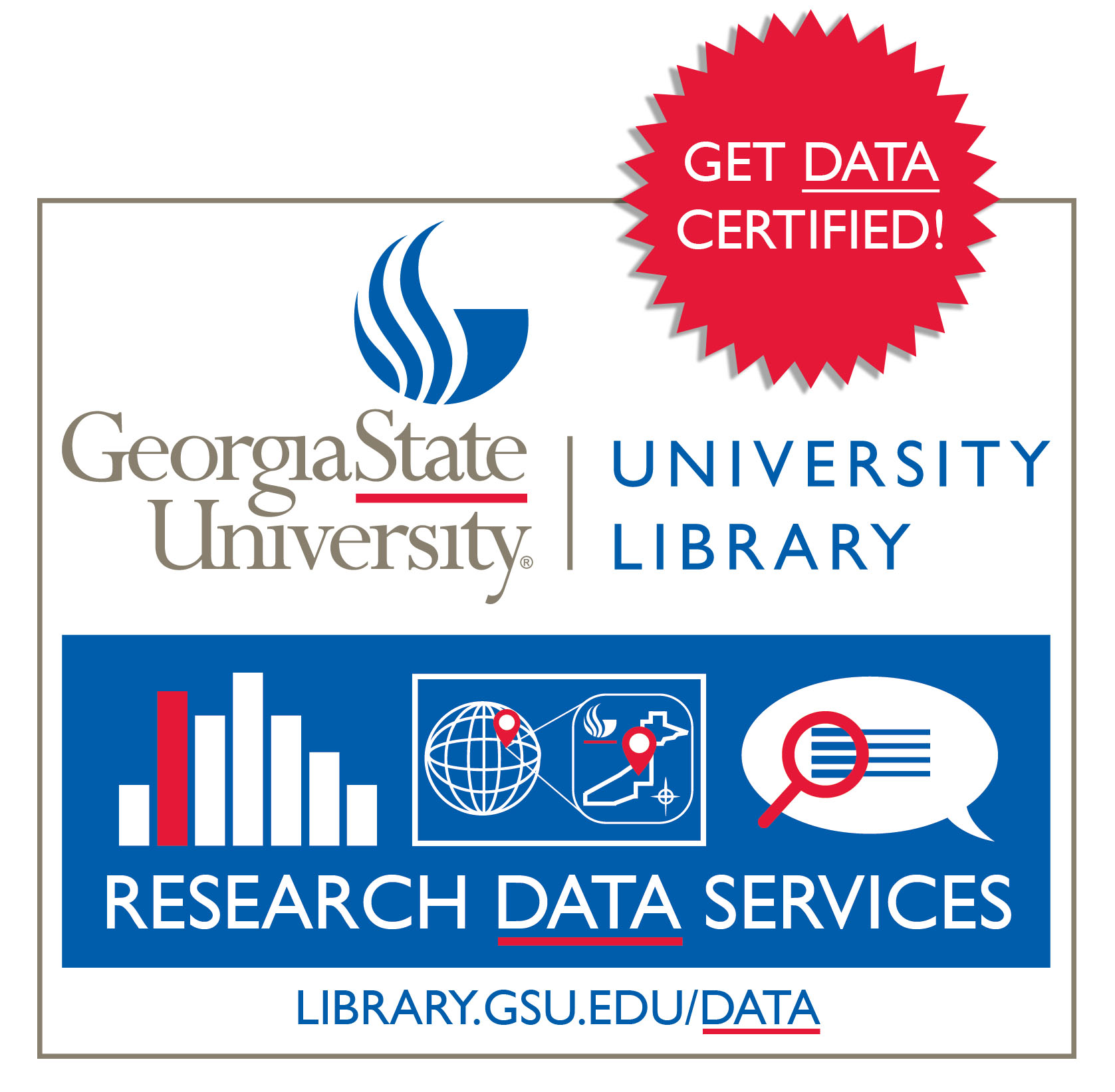 This Spring 2019 semester the Library's Research Data Services (RDS) Team launched a new initiative: the RDS@GSU Data Certificate program. With 92 certificate awardees, it seems safe to say that this new program was a resounding success! We are very proud of the inaugural group of RDS@GSU Data Certificate awardees. And, because we're all about data, we want to share some data about our awardees to highlight their accomplishment.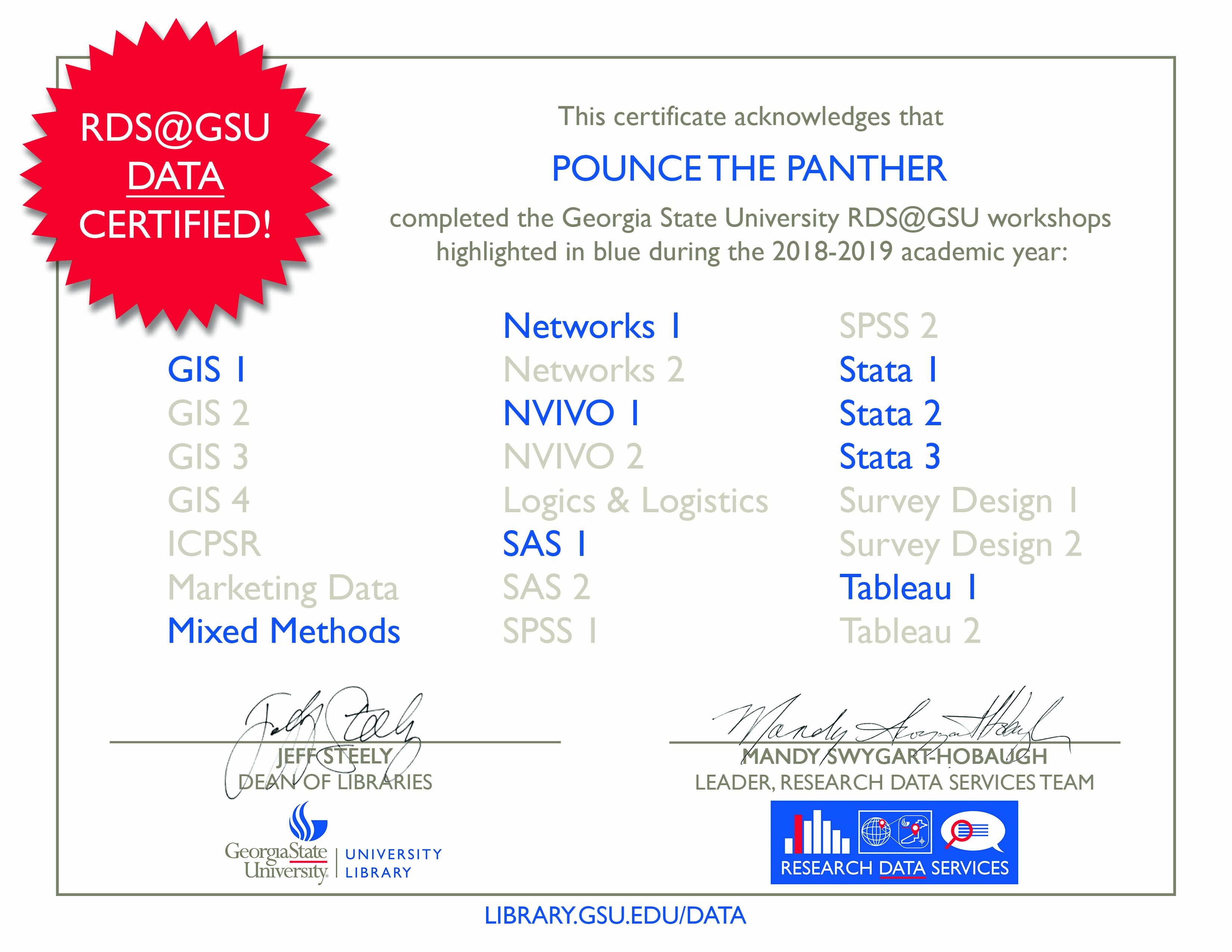 Our 92 RDS@GSU Data Certificate awardees attended 572 workshops in total, averaging about 6 workshops per awardee. While the majority (52, 57%) completed the required minimum of five workshops, the remaining 40 awardees attended six or more — with our "most attended workshops" awardee attending 15 workshops altogether. Quite impressive!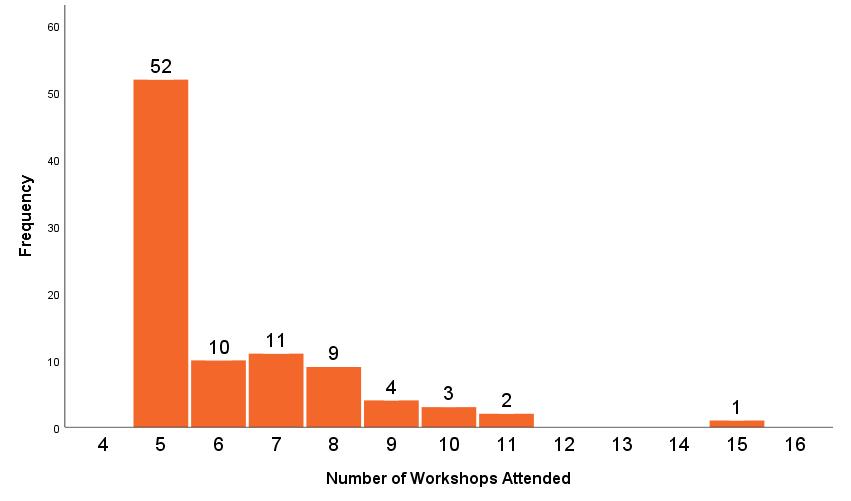 RDS@GSU Data Certificate awardees attended workshops across a wide variety of topics offered by the RDS Team.
GSU students were our largest awardee group, with 60 (65%) graduate students, 14 (15%) undergrads, and one postbaccalaureate. But we also had GSU staff, faculty, and even some GSU alumni thrown in the mix!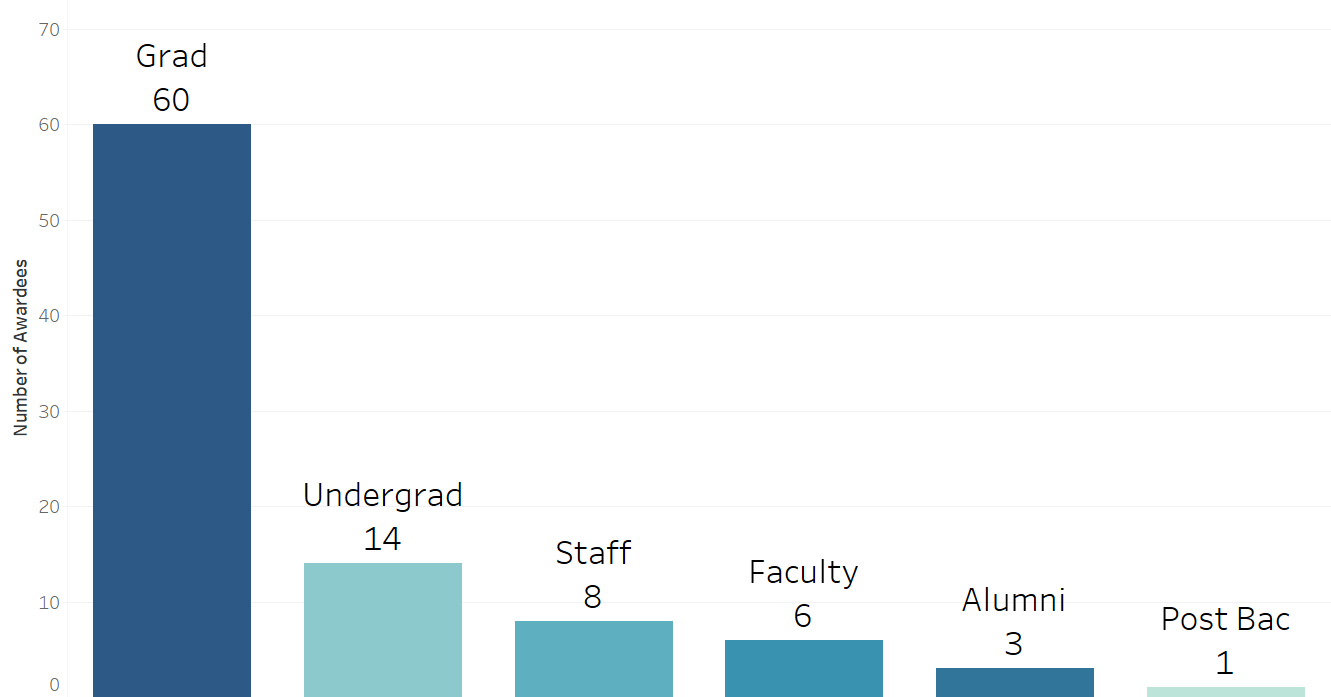 Almost all of the GSU Colleges had some representation – as did some administrative offices and the Library as well. Andrew Young School of Policy Studies had the most representation, followed by the College of Arts & Sciences.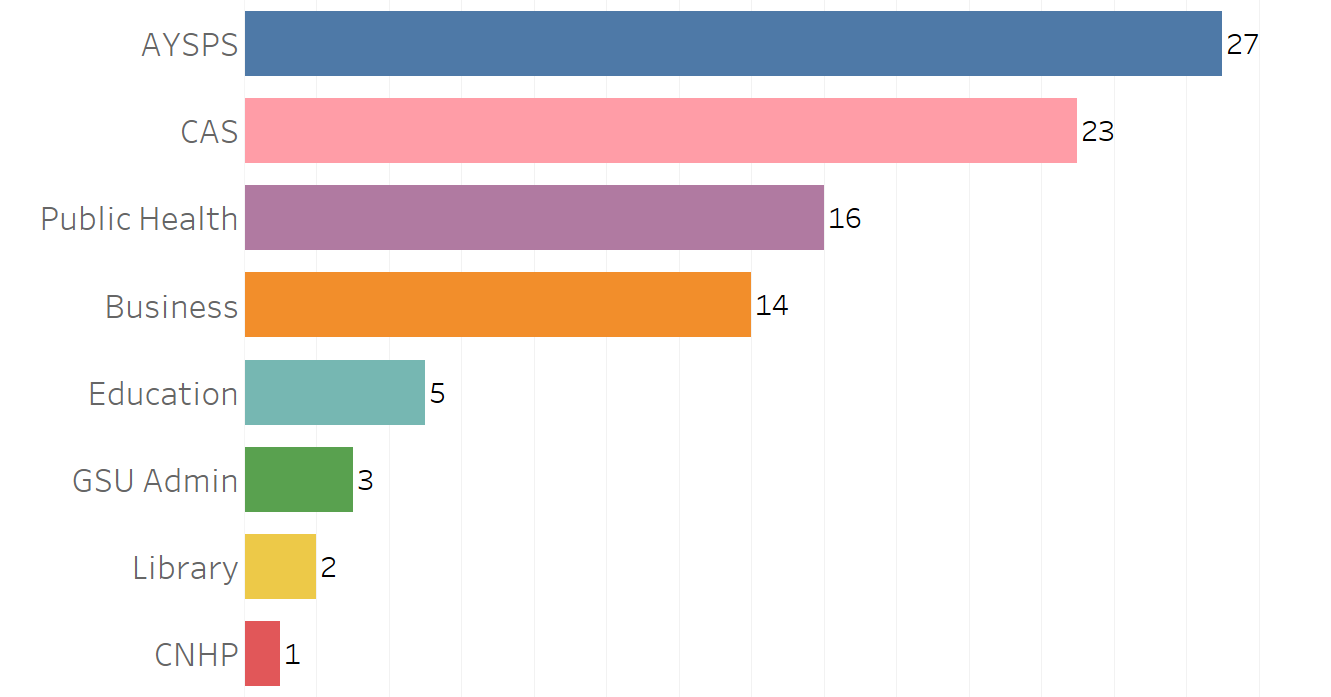 A variety of College of Arts & Sciences departments were represented…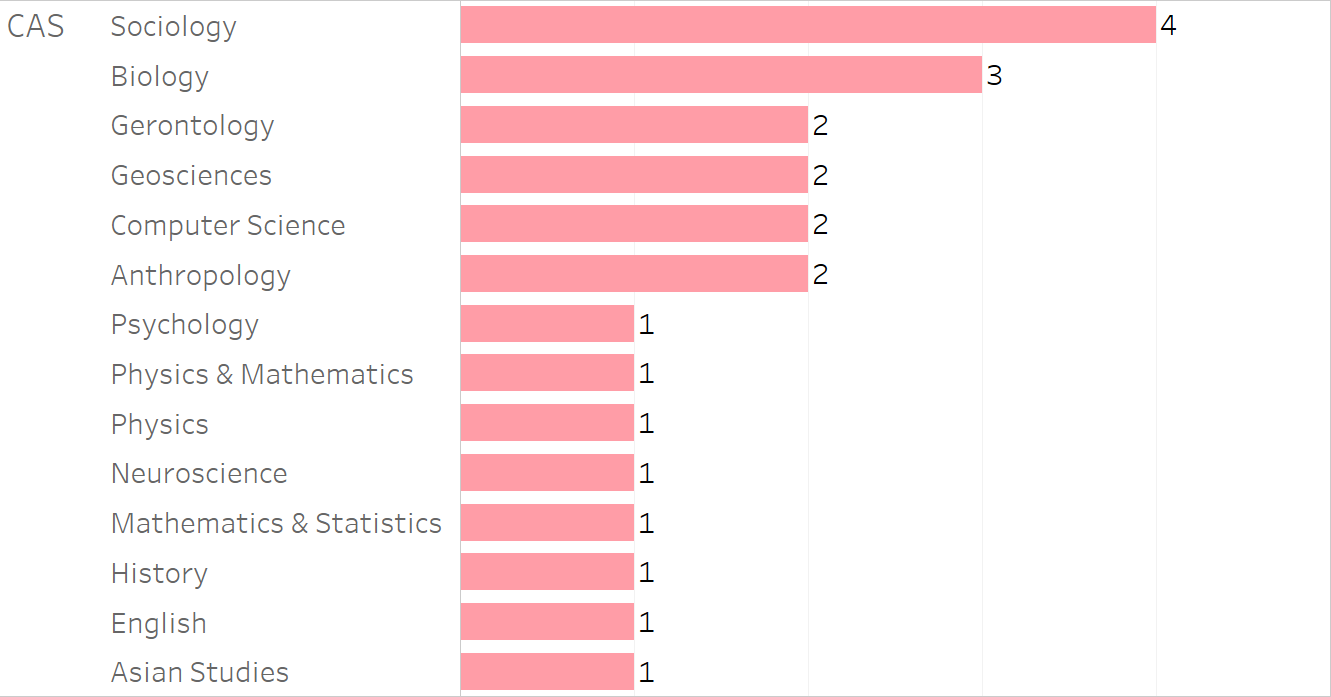 …as were a variety from the Andrew Young School of Policy Studies and the Robinson College of Business.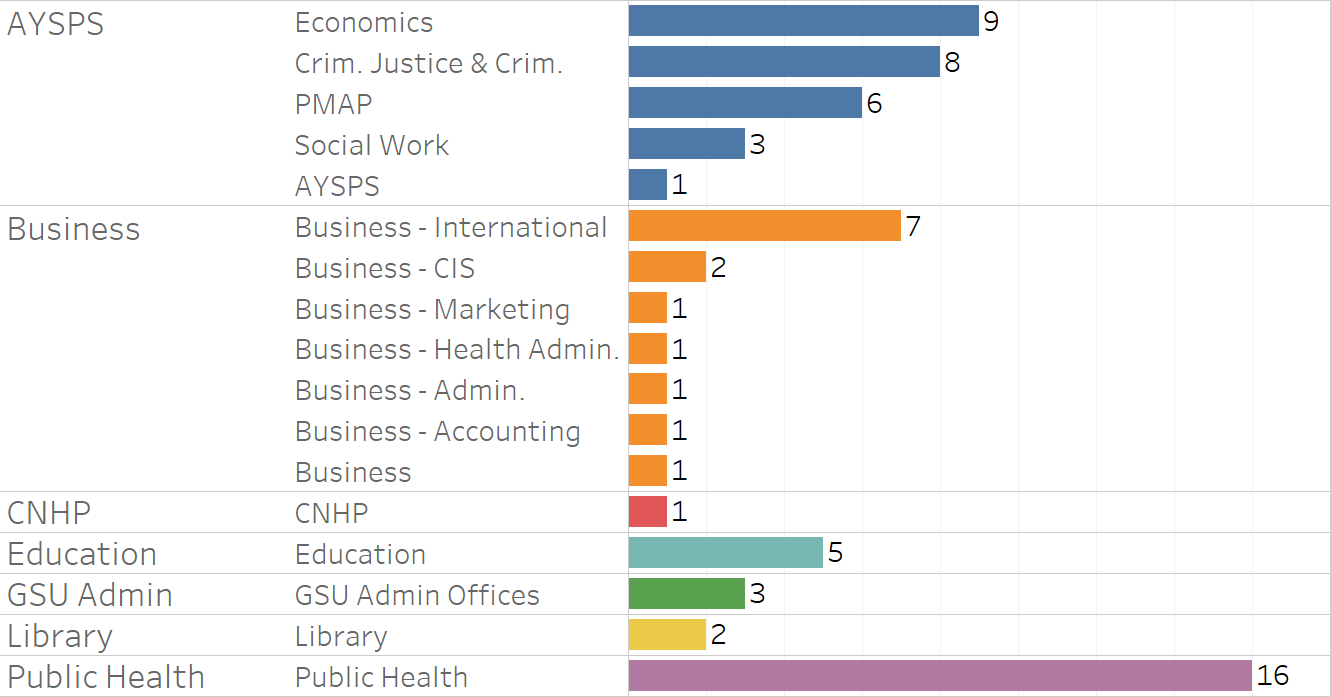 About 40 of the RDS@GSU Data Certificate awardees attended the certificate ceremony we held on Wednesday, May 1, in CURVE. At the ceremony awardees received their printed certificates along with verbal accolades from the RDS Team and Library Associate Dean Bryan Sinclair, enjoyed cake, took pictures with each other and RDS Team members, and assembled for a group picture where they proudly displayed their certificates.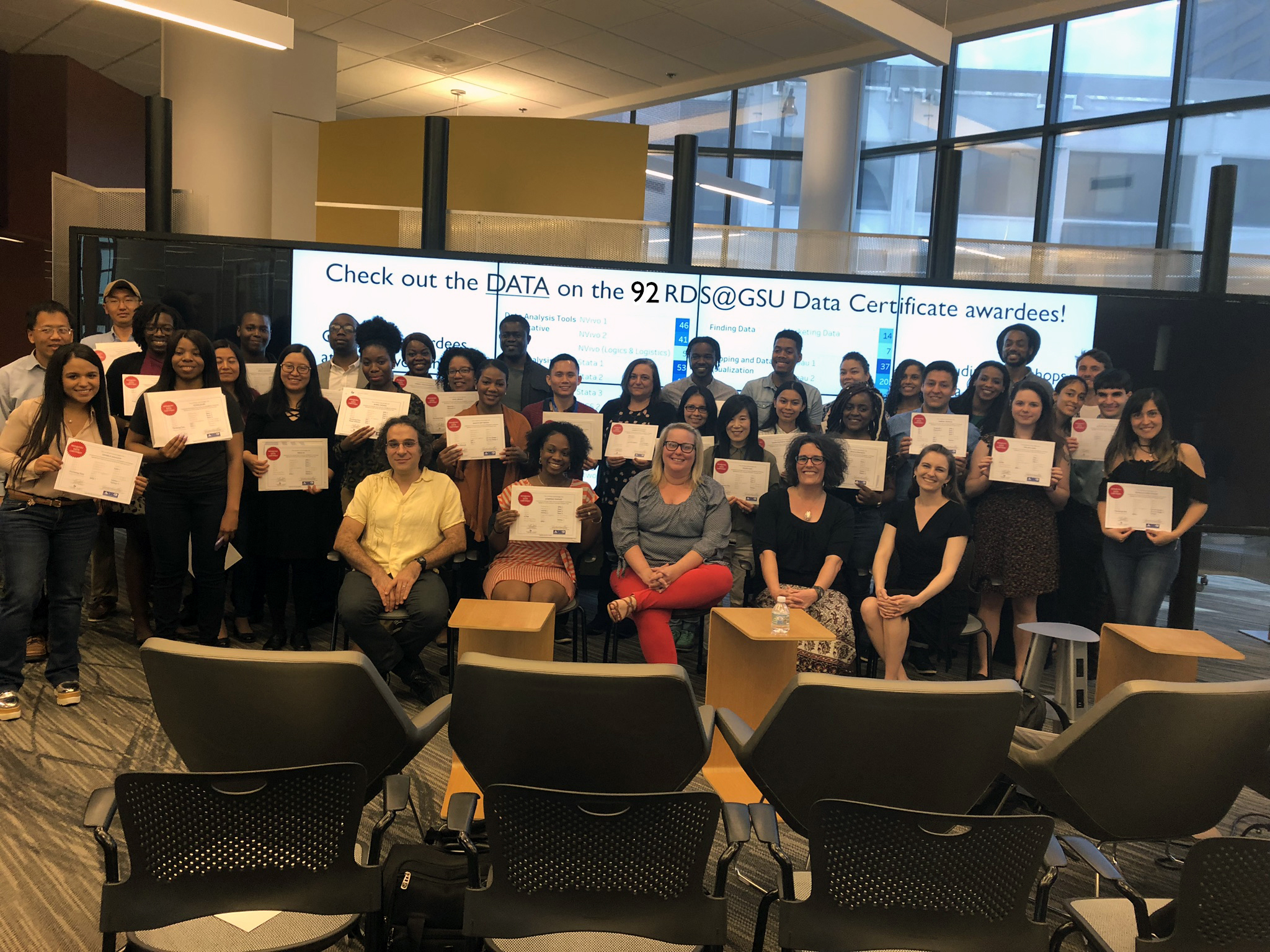 And here is what some of the RDS@GSU Data Certificate awardees had to say about the experience:
The certificate is a great opportunity to become a more competitive candidate while applying for a job. The workshops were very interactive.
I thought the RDS@ GSU Data Certification incentivized my participation in the RDS workshops. The workshops themselves were great and it definitely helped me brush up on prior skills and knowledge.
Certification looks amazing on resumes, I also found what was covered useful to my practice of SAS & SPSS.
It is essential for me as a student majoring in Epidemiology. I will be involved in research, and the only way to answer some of the world's health problems is making sense out of data. I'm confident this certificate will prove useful for me in getting a job. The entire program is flexible, and the materials are very helpful in understanding the course content.
Congratulations again to our 92 RDS@GSU Data Certificate awardees!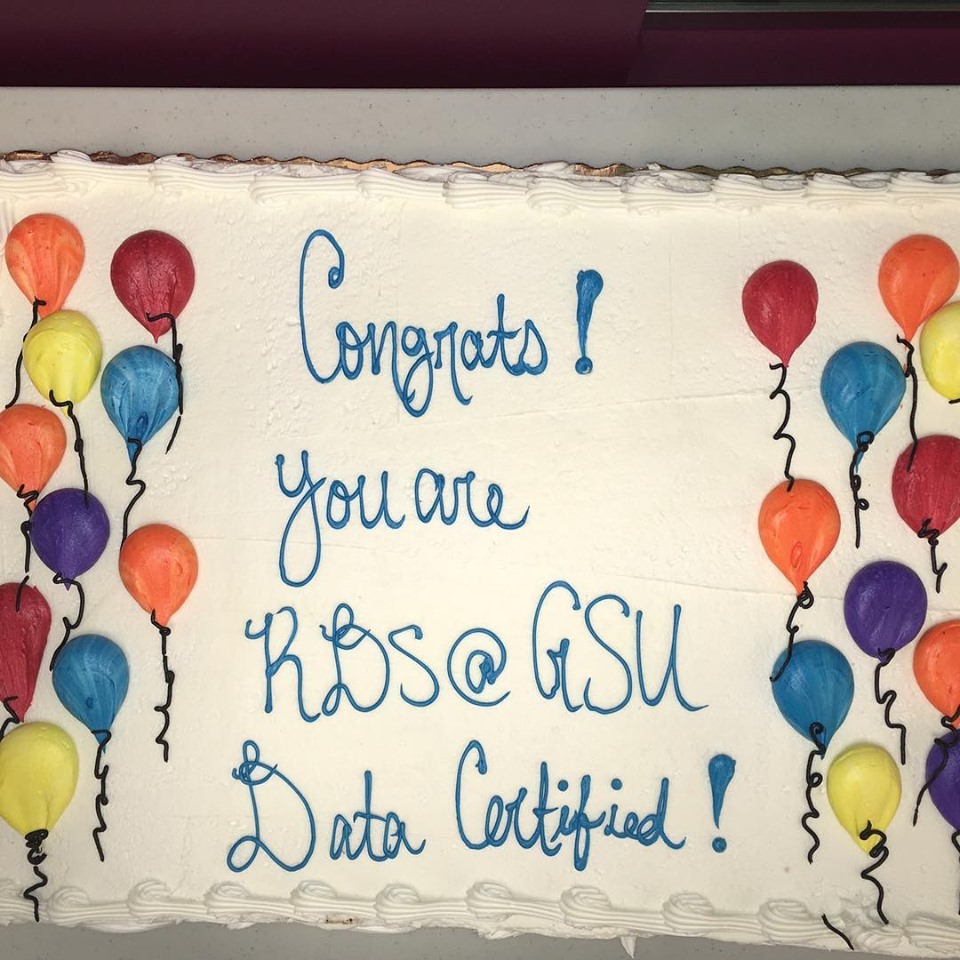 We commend you for your commitment to becoming data savvy, and we know what you've learned will benefit you in your studies and career.
Interested in getting RDS@GSU Data Certified?
______________________________________________________________