M.H. Ross Runs for City Council in Charlotte
The M. H. Ross Papers digital collection is now publicly accessible online. Digitization of the M. H. Ross Papers is being funded by a $48,865 grant from the National Historical Publications and Records Commission and will continue through September 2018. For an overview of M.H. "Mike" Ross and the M.H. Ross Collection, check out our previous blog entry.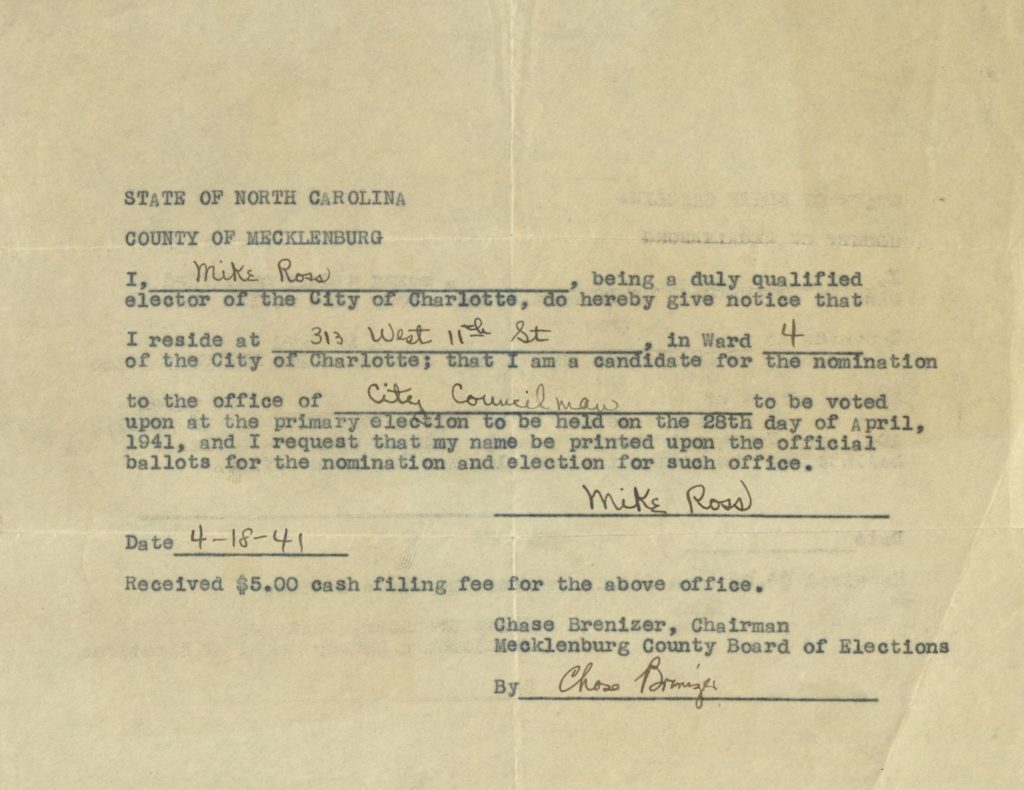 M.H. "Mike" Ross was only 22 years old when he ran for city council in Charlotte, North Carolina in 1941. At the time, Ross was the Assistant Secretary of the North Carolina chapter of the League for Progressive Democracy, the Vice-Chairman of the League for Young Southerners, a part of the Southern Conference for Human Welfare, and he served on the board of the Southern Summer School for Workers. A laborer at the Merita Bakery and an affiliate member of the American Federation of Labor (AFL) union, he was one of a few union men who entered the race as part of the Progressive Party "People's Platform" or "People's Slate," as opposed to what was sometimes called the "Machine Platform" of the Democratic and Republican parties.
The People's Platform stood for the rights of all working people, regardless of race, religion, or even political beliefs. Those running on this platform advocated for equal rights and protections, higher wages, lower taxes for those with lower incomes, a more adequate healthcare service, the building of low-cost housing, the building of more parks, greater accountability and transparency among those holding public office, and even free milk for infants in need.

Both Mike Ross and B.A. Hagler, a textile worker, received enough votes from their respective wards in the April 28 election to be included in the run-off, which was held on May 6, 1941. While neither man ultimately was elected to office, this was the first time in their district that union men ran for office and both gained wide support across their districts, with particularly large voter turnouts.
In 1941, Mike Ross began his service in the United States military. He would run again for office in 1948, still as part of the Progressive Party, this time for Congress.
To read more about this topic in the M.H. Ross Papers, explore these related folders:
Election articles, Chapel Hill, North Carolina [folder 1 of 2], 1940-1941
Election articles, Chapel Hill, North Carolina [folder 2 of 2], 1940-1941
Labor's Non-Partisan League National Bulletin, Vol. 4 No. 18, December 20, 1940
North Carolina League for Progressive Democracy and election [folder 1 of 3] 1940
North Carolina League for Progressive Democracy and election [folder 2 of 3] 1940
North Carolina League for Progressive Democracy and election [folder 3 of 3] 1940