Congratulations to Dr. John Lutzker, new Distinguished University Professor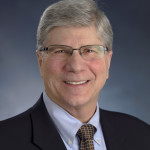 John Lutzker PhD, a leading expert in child neglect and maltreatment prevention, has been appointed Distinguished University Professor in the School of Public Health.  Dr. Lutzker is the Director of the Center for Healthy Development, a Professor at the School of Public Health as well as Associate Dean for Faculty Development in the School of Public Health.
President Mark Becker and Provost Risa Palm announced the appointment.
Georgia State created the Distinguished University Professor appointment to recognize professors who have track records of exemplary scholarship in their respective fields of study, and whose research and teaching trajectories demonstrate a commitment to sustained high levels of academic achievement.
You may read Dr. Lutzker's work in these books, which are available at the Georgia State Library.
He has also published a number of research articles.
Gaskin, E.H., Lutzker, J.R., Crimmins, D.B., & Robinson, L.. Using a digital frame and pictorial information to enhance Safecare® parent-infant interactions module with a mother with intellectual disabilities. J Ment Health Res Intellect Disabil.  2012 5(2),187-202.