GSU Anthropology Professor researches Diet and Disease among the Incans
Check out this recently-published article by GSU Anthropology Professor Bethany Turner:
Turner, B. L., & Armelagos, G. J. (2012). Diet, residential origin, and pathology at Machu Picchu, Peru. American Journal Of Physical Anthropology, 149(1), 71-83.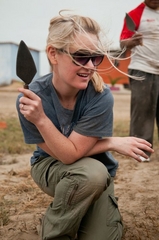 Using data drawn from skeletal remains of inhabitants of Machu Picchu, Turner and Armelagos were able to "distinguish early-life diet from residential origins as significantly associated with pathologies among the site's inhabitants." They concluded that "these results support previous research on the etiology of PH [porotic hyperostosis] in the Andes; they also represent a useful approach to refining site-specific interpretations of pathological conditions in archaeological populations, and exploring etiological variation between populations." [from article abstract]
To learn more about Machu Picchu, check out some of these books at the GSU Library:
Also, check out Dr. Turner's book chapter, "Partnerships, Pitfalls, and Ethical Concerns in International Bioarchaeology," in Social Bioarchaeology (Malden, MA: Wiley-Blackwell, 2011).