What do Zulu hats, tile work, and divination have in common?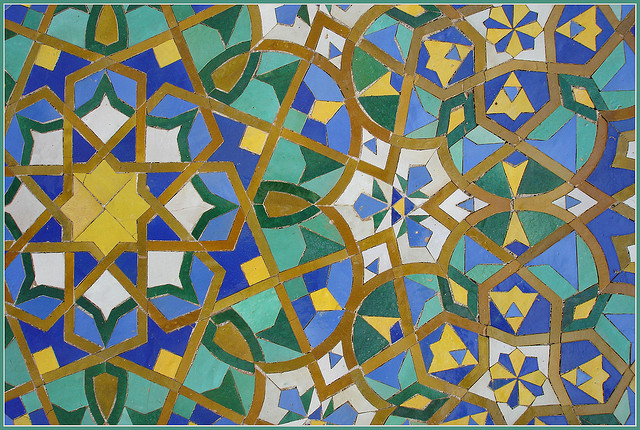 Ask Dr. Iman Chahine in the College of Education. Chahine teaches the course, "Ethnomathematics and its Role in Sociocultural Traditions".
Ethnomathematics studies the way in which cultural groups use mathematics in daily activities and in problem solving. Students in Chahine's course learn in the classroom and then have the opportunity to be immersed in the environment of another culture while studying abroad. In South Africa, students witness hand-made Zulu hats weaved from grass with precise symmetrical patterns. In Morroco, students witness a tile layer drawing a circle with a nail and thread. Divination and its history are present in many cultures. Divination often uses numbers and patterns to predict and interpret events. Though students are witnessing mathematics being used outside the classroom, they are able to explain these mathematical, cultural phenomenons with formal mathematical knowledge. These education students can then bring these cultural perspectives back into the classroom to offer new perspectives to the students that they teach.
Ethnomathematics represents a multicultural perspective that steps away from Eurocentric ways of thinking. Discovering the value of universal human ingenuity and the evolution of mathematics through diverse modes of thinking are central to the concepts of ethnomathematics.
Want to learn more about ethnomathematics? Check out the following resources:
Chahine, I. (2011). Beyond Eurocentrism: Situating ethnomathematics within the history of mathematics narrative. International Journal for Studies in Mathematics Education,4(2), 35-48.
McQueen, M.Q.,Shahee, S.F.H., Goings, & C. Chahine, I. (2010). Voices, Echoes, and Narratives: Multidimensional Experiences of Three Teachers Immersed in Ethnomathematical Encounters in Morocco. Journal of Urban Mathematics Education, 3(2), 47-56.
Ascher, M.  Ethnomathematics: A multicultural view of mathematical ideas. Located on Library North 5: GN476.15 .A83 1991
Powell, A. B., & Frankenstein, M. Ethnomathematics: Challenging eurocentrism in mathematics education. Located on Library North 5: GN476.15 .E85 1997. Also available as an ebook here.
Selin, H. Mathematics across cultures: The history of non-western mathematics. Located on Library South 4: QA21 .M3612 2000