VanHook Wins 2012 Undergraduate Research Award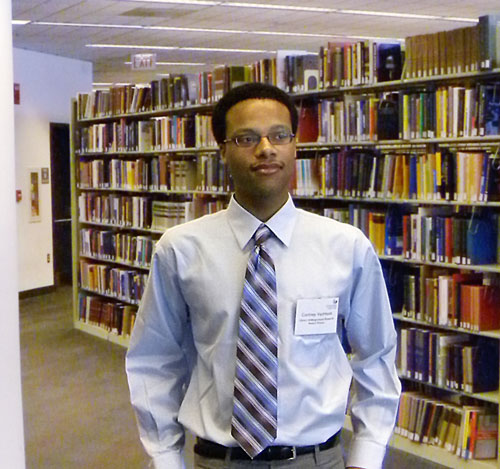 Only a month after he already won the 2012 Joseph H. McClure Award, Georgia State University student Cortney VanHook has won the 2012 Undergraduate Research Award, presented by the Georgia State University Library. This award recognizes students who demonstrate skill and creativity in the application of library information resources for research papers or projects completed in fulfillment of a course requirement.
VanHook's winning paper was titled "Racial Disparity in the Diagnosis of Conduct Disorder." According to the award committee, the paper was chosen for its "demonstration of fluency with concepts and debates within the literature of multiple disciplines, and the timely, relevant, and balanced use of the most current research materials."
VanHook says that epidemiological research has found that white youth have higher rates of conduct disorder, a youth diagnosis of anti-social personality disorder, than black youth. From his personal experience VanHook often saw his black youth peers display comparably more aggressive behaviors and wondered if conduct disorder research was skewed. His paper argues that black youth are at greater risk of conduct disorder than white youth because of the myriad of environmental risk factors that they are exposed to. The psychological diagnostic manual currently discourages diagnoses of environmentally based behaviors, regardless of harm. Further, most conduct disorder research has focused on participants in some form of institutionalization. Ideally, VanHook would like to bring this research to K–12 schools to pursue it further.
In writing his paper, VanHook made use of several library resources, including the PsycINFO database. He also made use of our Interlibrary Loan service to quickly get access to other necessary documents. The library was crucial to his work and VanHook says that he couldn't get by as a psychology major (especially one looking toward graduate school) without using the library. In particular, Psychology Librarian Ida Martinez provided instrumental assistance.
VanHook's paper is preserved within the Digital Archive @ Georgia State University. There you can read the work of this bright, hard-working student.