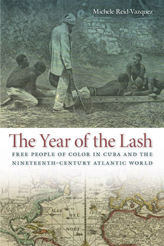 Prof. Michele Reid-Vazquez of the History Department has recently published The Year of the Lash: Free People of Color in Cuba and the Nineteenth-Century Atlantic World (2011).
In this book, Prof. Reid-Vazquez reveals the untold story of the strategies of negotia­tion used by free blacks in the aftermath of the "Year of the Lash"—a wave of repression in Cuba that had great implications for the Atlantic World in the next two decades, beginning with an infamous execution in June 1844.
At dawn on June 29, 1844, a firing squad in Havana executed ten accused ringleaders of the Conspiracy of La Escalera, an alleged plot to abolish slavery and colonial rule in Cuba. The condemned men represented prominent members of Cuba's free community of African descent, including the acclaimed poet Plácido (Gabriel de la Concepción Valdés). In an effort to foster a white majority and curtail black rebellion, Spanish colonial authorities also banished, imprisoned, and exiled hundreds of free blacks, dismantled the militia of color, and accelerated white immigration projects.
Scholars have debated the existence of the Conspiracy of La Escalera for over a century, yet little is known about how those targeted by the violence responded. Drawing on archival material from Cuba, Mexico, Spain, and the United States, Reid-Vazquez provides a critical window into under­standing how free people of color challenged colonial policies of terror and pursued justice on their own terms using formal and extralegal methods. Whether rooted in Cuba or cast into the Atlantic World, free men and women of African descent stretched and broke colonial expectations of their codes of conduct locally and in exile. Their actions underscored how black agency, albeit fragmented, worked to destabilize repression's impact. (From publisher's information).
Prof. Reid-Vazquez has also published "Protesting Service: Free Black Response to Cuba's Reestablished Militia of Color" in the Journal of Colonialism and Colonial History, articles and reviews in the Journal of Colonialism and Colonial History, as well as essays and chapters in The Yoruba Diaspora in the Atlantic World, Toyin Falola and Matt Childs, editors; Documenting Latin America: Gender and Race, Empire and Nation, Vol. 1, Erin O'Connor and Leo Garofalo, editors; Africans to Colonial Spanish America, Sherwin Bryant and Ben Vinson, III, editors (forthcoming 2012); the Oxford Encyclopedia of Women in World History; and the Encyclopedia of Free Blacks and Free People of Color in the Americas.
Congratulations to Prof. Reid-Vazquez!