Georgia State University Library has recently acquired the Times Digital Archive, 1785-1985, a historical archive of the Times (London).  Known as the world's "newspaper of record," the content of the Times (London) is international in scope and the paper is considered one of the most authoritative sources for political, legal, business and social news. This resource was purchased using ongoing funds from a 1988 National Endowment for the Humanities (NEH) Challenge Grant.
The Times Digital Archive includes the complete fulltext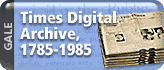 content of all issues from 1785-1985, including illustrations, advertisements, editorials, reviews and obituaries. You can view and print individual articles or the complete newspaper pages.
Possible ways you can use this resource include:
Find reports on Nobel Prize winners since 1901
Learn how region and religion contributed to the Crimean War in 1854
Locate a review of Fritz Lang's 1927 film, Metropolis
Discover Guinness ads from the 1930s promoting the ale as a health tonic
Challenge yourself to the famed Times crosswords
Note:  The Sunday Times is a separate publication from the Times (London), thus it is not included in the Times Digital Archive. The Sunday Times is available on microfilm (Library North 1 – News Micr. AN4 .T552). Recent issues of both papers (since 1985) are available in LexisNexis Academic.