Gordon Pavy visit to Southern Labor Archives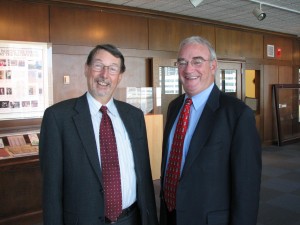 Gordon Pavy, director of Collective Bargaining for the AFL-CIO, visited the Special Collections and Archives department of Georgia State University Library on the morning of October 14 with Philip LaPorte, director of GSU's Labor Studies Program.
The Southern Labor Archives, part of Special Collections and Archives, holds many collections of AFL-CIO records, including those created by its city- and state-affiliated labor councils, Civil-Rights Department, Southeastern region offices, Human Resources Development Institute, Building and Construction Trades Department, and Committee on Political Education.
Mr. Pavy toured the gallery and the stacks area, and even got a brief instruction session on locating information about AFL-CIO collections held in the Southern Labor Archives. He was visiting Atlanta in his capacity as president-elect of the Labor and Employment Relations Association.
Special Collections and Archives in located on the 8th floor of Library South, GSU Library. Please contact us at 404.413.2880 or at archives@gsu.edu.