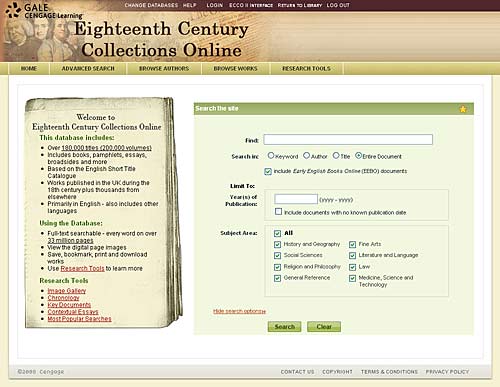 Part II of Eighteenth Century Collections Online (ECCO) is now finished.  The library purchased this collection last year as an addition to the original ECCO database.  The final batch of Part II adds more than 1,600 titles and nearly 500,000 pages to the collection.  Thus, ECCO parts I and II together now provide researchers of the 18th century with over 180,000 fulltext titles.
ECCO contains works published between 1701 and 1800 and printed in English-speaking countries and countries under British colonial rule.  The collection contains books as well as other types of materials, such as directories, Bibles, sheet music and advertisements. Most of the works are in English, but there are also works in other languages, including French, German, Italian, Latin and Spanish.  The titles added in Part II are particularly strong in the areas of  literature, social sciences and religion.
Want some direction in order to get the most out of this rich resource?  Check out the Research Tools section accessible from the top menu bar.  There you can find detailed information about the collection, contextual essays, a chronology and more.