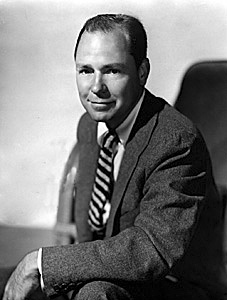 In recognition of the 100th anniversary of Johnny Mercer's birth, the Georgia State University Library, which houses the Johnny Mercer Papers, presented a two-day academic conference titled "Popular Music in the Mercer Era, 1910-1970."  The proceedings from this event, which include full-text papers and video footage of the presentations, are now available online at Georgia State University's Digital Archive.
Additionally, the Special Collections and Archives Department has produced a full-text digital copy of songwriter Johnny Mercer's autobiography and made it available on the library's website. This type-written manuscript (with hand-written corrections) from 1973 is the most complete version of the autobiography from the Johnny Mercer Papers. In it Mercer reflects on his early life in Savannah, his time spent in New York City, and his storied career in Hollywood working with a who's who of popular music songwriters.
Questions about the conference proceeding or autobiography should be directed to Kevin Fleming, archivist, Popular Music and Culture Collection, at 404-413-2880 or archives@gsu.edu.