GSU Art History Student Alana Wolf has a written an article, titled "Brian Dettmer: Are Books Dead?" on the Atlanta arts web site Burnaway.org. In the article, Alana examines issues such as the effect technology has had on our relationship with books, and uses altered-book artist Brian Dettmer as an example of how artists are using books to express ideas about pleasure, knowledge, technology, and human communication: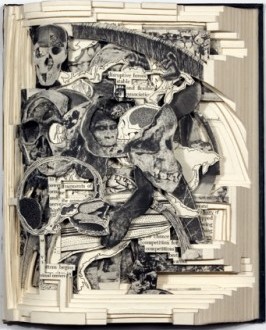 "The poetic functionality of the printed form does not deny our desire for fingertip-ready, instant information. Dettmer has found a way to use analog technology to talk about the digital. I am looking forward to seeing what possibilities lay in the opposite direction."
Click here to read the complete article.
Brian Dettmer, The (Re)Emergence of Man, 2010, altered book, 9 1/2 x 7 3/4 x 2 inches. Photo courtesy Saltworks Gallery.