Biltmore Radio & University Library Reach Agreement to Stream the Archive of Don Kennedy's 'Big Band Jump' Program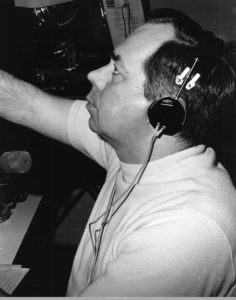 Streaming radio station Biltmore Radio has reached an agreement with the Georgia State University Library's Special Collections and Archives which will allow the station to broadcast the archive of Atlanta broadcast icon Don Kennedy's Big Band music program, 'Big Band Jump'. The agreement is for two years, with hopes of continuing indefinitely.
"We couldn't be more excited to have come to this agreement with the University Library Special Collections and Archives, along with the Kennedy family, to air these wonderful shows," said Benji Kurtz, co-founder of Biltmore Radio. "Ever since we started the station a couple years ago, we kept hearing from our fans – 'Are you going to get Big Band Jump on the air?' – and now we will be able to enthusiastically say 'YES!'"
Kurtz continued, "With Mr. Kennedy's iconic history in Atlanta broadcasting, as well as his long affiliation with the WSB call letters – we think that Biltmore Radio will able to pay this legend and his program the respect that they have earned."
'Big Band Jump' ran for more than 25 years, first on Georgia State University's student radio station WRAS as 'One o'Clock Jump' on weekends, and later nationally via syndication.
"Several years ago, we acquired the papers of Don Kennedy which includes more than 600 two-hour 'Big Band Jump' programs, and this seems like the ideal channel to get these historic programs out to the public once again," said Kevin Fleming, Archivist for the Music and Radio Broadcasting Collections. "Mr. Kennedy's papers also include the scripts, cue sheets, and newsletters in relation to the 'Big Band Jump' program, as well as interviews with musicians and other big band-era figures."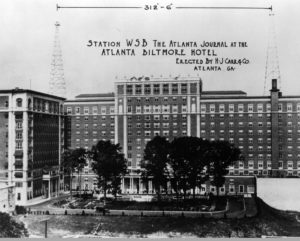 Biltmore Radio was founded to honor the history of The Biltmore in Midtown Atlanta, a former hotel (now Class A office space and condominium residences) which housed the WSB Radio studios from 1925-1955. For a time, its transmitter was also atop the historic building (the two towers which held the transmission lines are still a part of the Midtown Atlanta skyline today). The streaming station, broadcasting from The Biltmore, features Big Band and music from the Great American Songbook, creatively reimagining broadcasts from years gone by.
The Music and Radio Broadcasting Collections at the Georgia State University Library was established in 1981 with the task of collecting and preserving unique historical materials documenting 20th-century American music and radio broadcasting. The collection began with the acquisition of the Johnny Mercer papers and expanded to include other artists from his era, as well as early country, bluegrass, and Southern gospel music; the Atlanta Symphony Orchestra; and radio broadcasting in Georgia. Learn more about the Music and Radio Broadcasting Collections at https://lib.gsu.edu/musicradio.
Biltmore Radio can be found on iHeartRadio, TuneIn, via the Biltmore Radio app in the Apple and Google Play stores, and at biltmoreradio.org.