Georgia State's Special Collections & Archives seek stories from the University Community during COVID-19 pandemic
As the university community experiences this transformative time brought on by the COVID-19 pandemic, the Georgia State University Library's Special Collections & Archives is collecting personal experiences and responses. The collection will act as a time capsule to provide personal recollections about this period when schools have transitioned to digital learning, families have sheltered in place together, and the country has been forced to define essential services.
Special Collections & Archives has developed a Google Form to capture stories, documentation, and images from around campus during this unprecedented time in our history. Students, faculty, and staff are encouraged to contribute to the project by sharing how the pandemic has affected their family, work, education and well-being. Digital submissions may include personal reflections, photos, recordings, or any other means that demonstrate how the pandemic has affected their lives. The University Archives will permanently hold all content collected through this form, which we hope will give future generations an inside look into what the COVID-19 pandemic was like.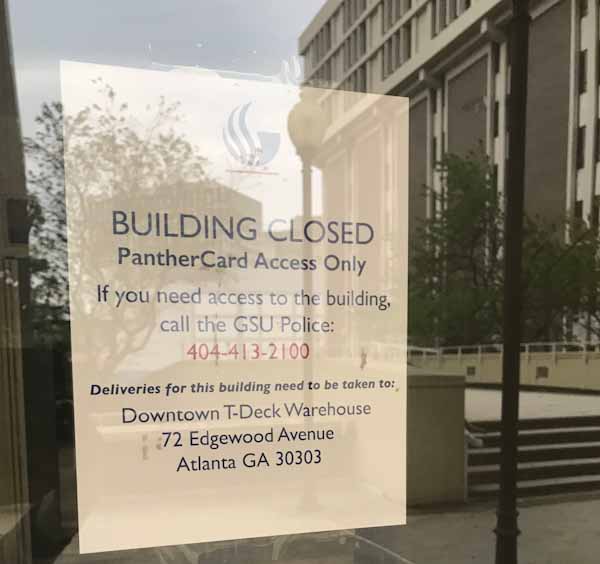 As it became clear that the university might be directed to close down sections of campus and move to learning at a distance, faculty and staff in the archives began planning how to document and preserve how the COVID-19 pandemic would affect the campus community in profound, long-lasting ways. "We are encouraging the Georgia State community to consider documenting their experiences as well as sharing this form with their colleagues, students, and staff, while welcoming contributions from all Georgia State community members," according to Christina Zamon, Head of Special Collections & Archives. "Those who contribute to the COVID-19 collection will help to build our collective understanding of the human experience during this unusual time. Documenting this crisis while it is happening is critical for the accuracy of the historical record which will ultimately benefit future students and scholars."
Typically, Special Collections & Archives will collect materials and documents that reflect historical events after the event has been experienced. However, a few years ago, Special Collections & Archives began "rapid-response collecting" in an effort to document the Women's Marches and has continued this "in the moment" style of acquiring collections and materials. The idea behind rapid-response collecting comes from a growing practice in archives and museums to document historical events as they happen. The goal is to recognize when current events and situations are likely to have long-term consequences and historical significance so that archives can act quickly to document and preserve evidence of those events and their effects on people. Doing this in the moment ensures that Georgia State doesn't miss the chance to preserve important records, including people communicating their immediate experiences as opposed to sharing memories long after the fact.
"We do not know what the long-term changes in society COVID-19 will create, but this period will have profound and lasting consequences. Future generations will have many questions about how we responded and how those varied responses played out over time," said Jeff Steely, Dean of Libraries. "The more we can document the experiences of today, the better scholars of tomorrow will be able to learn from this crisis. The library has a responsibility to archive primary sources, and we can be pretty certain that some of these artifacts from 2020 will be valued documents in 2120."
Our longer-term plans for the project include putting some of the submitted stories and images online through our Digital Collections site, while maintaining the entire COVID-19 project as part of the University Archives' permanent collections. We hope that documenting Georgia State's response to COVID-19 will provide future students, faculty, and leaders within the university with information on how we weathered the COVID-19 pandemic.
Contributors to the COVID-19 collection will retain copyright of their materials, but they must agree to allow perpetual license to the University Library to use the materials for scholarly and educational purposes, including broadcast or display on campus, in classrooms, on GSU-affiliated broadcasts, or events and off-campus appropriate venues.
To submit items, visit https://lib.gsu.edu/documenting-covid. For questions or to donate physical items, email archives@gsu.edu.