Sprawling of Atlanta: Visualizing Metropolitan Area Change, 1940s to Present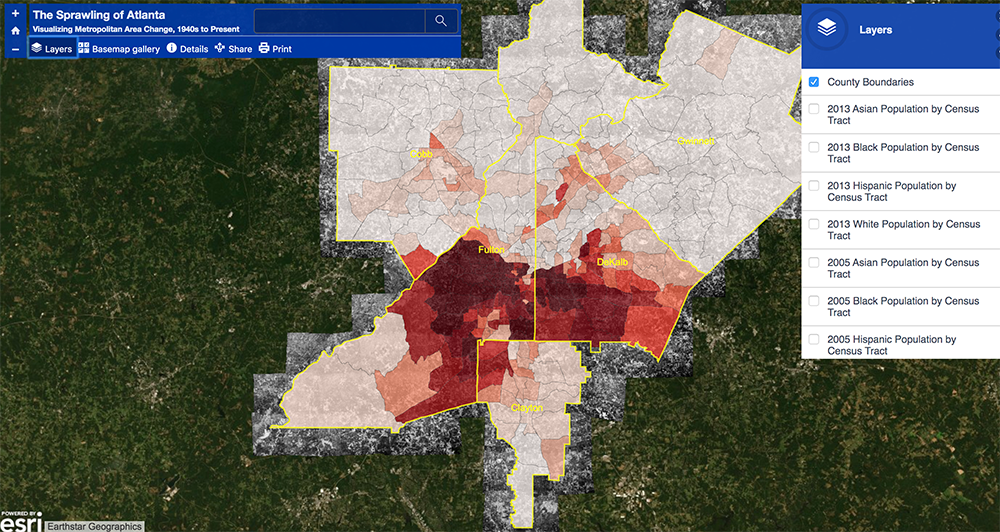 Sprawling of Atlanta: Visualizing Metropolitan Area Change, 1940s to Present
ATLANTA—"The Sprawling of Atlanta" is an interactive Web map created by Georgia State University Library that enables researchers, students and the public to visualize the extensive built environment and demographic changes that have occurred throughout the metropolitan region from the 1940s to the present. The project provides aerial imagery overlays of the five core metropolitan counties – Fulton, DeKalb, Cobb, Gwinnett and Clayton, documenting eight decades of growth and change in our region. Also included are census tract-level population and housing data, providing additional context to these visualizations. Among the changing patterns revealed are the dramatic growth of the suburbs, decline in agricultural areas, decline and rebuilding of the urban core and shifting racial and housing patterns. Joseph Hurley, data services and Global Information System librarian, and Katheryn Nikolich, Ph.D. candidate in History, led the project, with assistance from Georgia State Honors College student assistant Carson Kantoris.
https://lib.gsu.edu/sprawling-atl
Credit
Hurley, Joseph A., and Katheryn L. Nikolich, "The Sprawling of Atlanta: Visualizing Metropolitan Area Growth and Decline, 1940s to Present," Georgia State University Library, accessed [current Month Date, Year]
Questions? Contact our Digital Library Services at digitalcollections@gsu.edu.