Meet a Librarian: La Loria Konata
Who is La Loria?
La Loria is the librarian for Criminal Justice, Economics, Public Management & Policy, and Social Work.  She was born and raised in Cleveland, Mississippi and moved to Atlanta in 1992.  La Loria has a B.A. in Political Science and Pre-Law from Tougaloo College, an M.P.A (Master of Public Administration) from Georgia State University, an M.L.S. (Master of Library Science) from Clark Atlanta University, and she's about to finish a Juris Master in Intellectual Property from Emory School of Law.
Why librarianship?
La Loria was working fulltime at the GSU Library while pursuing her M.P.A. and realized that research "made sense" after learning the ins and outs of the library.  Additionally, her mom went to college when La Loria was growing up and La Loria sometimes helped her with her research.  La Loria liked the work she was doing in the library and wanted to be able to help other students with research, particularly non-traditional students who were a large part of the population of GSU at that time.  La Loria didn't always want to be a librarian, though.  Growing up, she wanted to be a lawyer like Perry Mason!
What does La Loria do when she's not at work (or studying)?
La Loria is the author of LaKo's Lessons from Sports, a blog about work and life lessons from the world of sports.  La Loria also loves music and movies.  Her favorite bands are Earth, Wind & Fire and Parliament Funkadelic.  Shalamar was the first concert she ever attended and she was heartbroken when the band broke up.
La Loria's favorite movies are Cleopatra Jones, because she was the first Black female superhero, A Piece of the Action (a Black To Sir with Love), Back to the Future, because the idea of going back to correct mistakes of the past is appealing, and Last Holiday (with Queen Latifah) for its message to live in the moment and don't wait until you're dying to fulfill your bucket list.
A few other things you might not know about La Loria: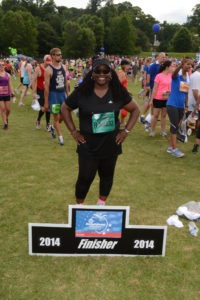 She played the snare drum and bells in high school marching band.
She loves sports, especially football.
She ran the Peachtree Road Race in 2014.