Meet a Librarian: Leslie Madden
Let's Meet Leslie
Leslie Madden has been a librarian for 20 years, and has been at GSU since 2005. She is currently our English Librarian and Team Leader of Library Services for Arts & Humanities. Her roots are in the Arlington/Alexandria, VA, area where she lived until moving to Georgia in 1994. Her educational background includes a BA in English with a minor in writing from Virginia Commonwealth University, and two graduate degrees – an MA in English Literature also from VCU, and her MS in Library Science from UNC Chapel Hill.
Where in the World is She?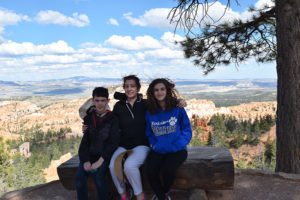 Most of the time Leslie is here at the GSU Library or at home. But when she travels, she travels like a boss! It may have all started when she committed to a year-long student exchange program as an undergraduate at Canada's fully bilingual Laurentian University in Sudbury, Ontario. Since then, Leslie has been to China, Thailand, Mexico, Italy, South Korea (one day, long layover, but it counts), and nearly all the U.S. states including Alaska (her sister lives there!) and Hawaii. Her most recent adventure, this past summer, included a visit to the Utah and Arizona state parks with her entire family, including her parents, her sister and brother-in-law and nephews, plus her beautiful children, Claudia and Julian, pictured here with her during that trip. In 2015 she fulfilled a lifelong dream of a 10-day tour of Italy. Her next dream destination: Spain! We might not see her running with the bulls soon, but maybe enjoying some tapas on the Plaza Mayor.
Fun Stuff: Leslie's Lists
Favorite Thanksgiving dish: pumpkin pie
Favorite character from literature: Elizabeth Bennet
Wanted to grow up to be: a ballerina
1st concert: Hall & Oates (with her mom and sister)
Last book read: The One-cent Magenta: Inside the Quest to Own the Most Valuable Stamp in the World
How would these people describe Leslie in one word?
Mom: Stubborn
Kids: Sweet
Best friend: Loyal
Name one thing you have, one thing you like, and one thing you do:
Have: Two cats (benny & amos, right)
Like: To try new foods
Do: Crossword puzzles & board games
Next time you see Leslie, be sure to ask her about her travels, children, Hall & Oates, or if she can find you a peer-reviewed article in comparative literature on Lizzy Bennett's effect on modern-day feminism.