Multi-floor Call Number Shift in Progress – Atlanta Campus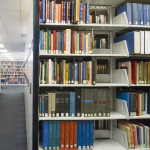 The University Library's Stacks Maintenance Unit will be shifting books in the HF call number range at the Atlanta Campus to accommodate new titles added to the collection.
The unit will shift part of the HF collection from the 4th floor of Library North to the 5th floor of Library North. The shift will begin on Thursday, November 17th and will be completed by the end of Tuesday, November 22nd. Temporary signage will be available to assist users looking for books in the HF section.
Thank you for your patience! Stay tuned for an update once the shift is complete.