Uprising of '34 Interviews Now Available Online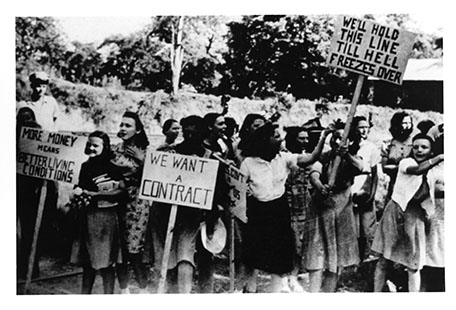 As announced on this blog in June, GSU Library received a grant from the National Historical Publications and Records Commission to digitize, transcribe, and make available the audiovisual interviews that were produced during the making of the 1995 documentary The Uprising of '34. The first batch of digitized interviews is now accessible online. More interviews will be uploaded each week throughout 2016.
The interviews are presented online using the Oral History Metadata Synchronizer (OHMS), which allows users to watch recorded interviews while simultaneously viewing their searchable transcripts.
The Uprising of '34 tells the story of the General Textile Strike of 1934. The strike (actually a series of strikes), one of the largest in American history, was a defining moment in the South's relationship to organized labor. Attempts to unionize in Southern cotton mills were met with violent resistance, and some strikers were killed. Many more were blacklisted and forced to relocate. This digital collection is the first publicly-accessible collection of first-person accounts relating to the 1934 strikes.
The National Historical Publications and Records Commission (NHPRC), a statutory body affiliated with the National Archives and Records Administration (NARA), supports a wide range of activities to preserve, publish, and encourage the use of documentary sources, created in every medium ranging from quill pen to computer, relating to the history of the United States.
For more information on this project, contact Kathryn Michaelis, Digital Projects Coordinator, Georgia State University Library, at (404) 413-2860 or kmichaelis@gsu.edu.