The Georgia State University Library has experienced a zombie attack that has wiped out almost the entire University Library staff. Over the course of this National Library Week, the few survivors gave their accounts of the disasters befalling the University Library due to the absence of these vital library workers.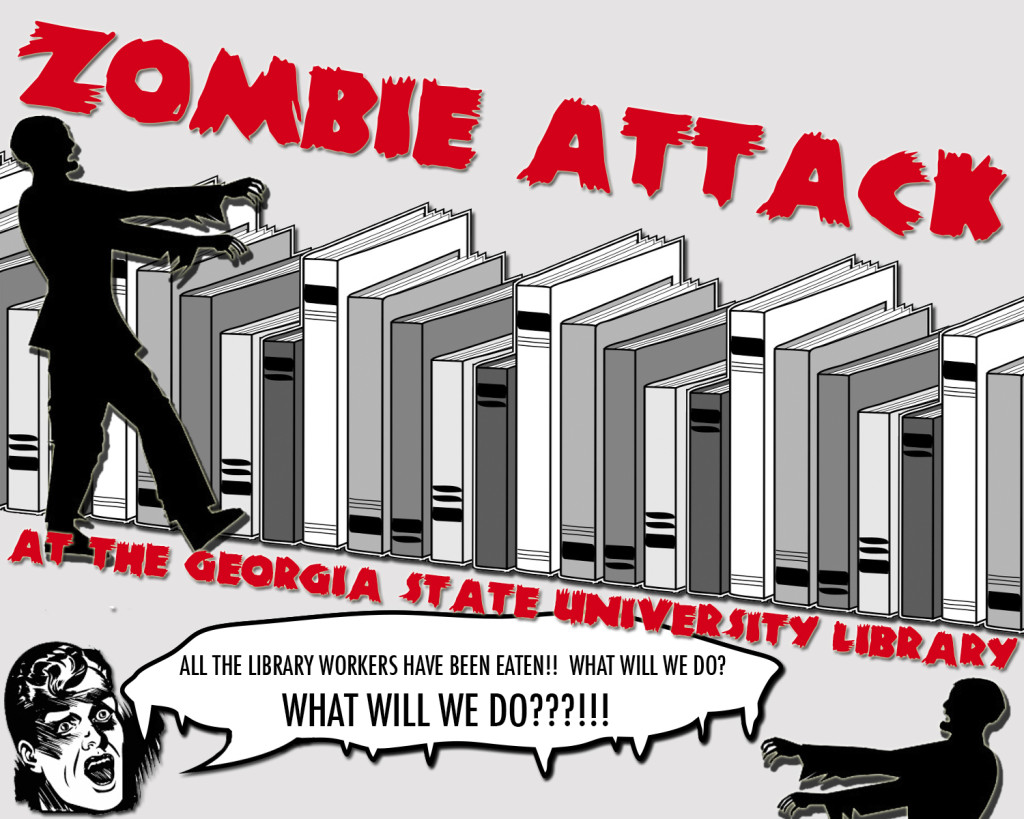 Cynthia's Account:
The doors open to Library North, the usual early comers enter. A few students go to the first floor desk, but there are no workers on desk. At the same time, a group of students go to the second floor desk – and you guessed it – no workers on desk.
No reserve books or DVDs to check out, no GIL express or Interlibrary Loan books to distribute, no fines payments are accepted, no holds are removed, students start to panic.
Students start to protest.
Meanwhile, the students wanting to check out equipment on the second floor see no workers. No telephone chargers, no laptops, no calculators, no V-room access – no check outs at all.
Now, students converge to the Library Administration Offices shouting – "No Check Outs, No Peace!" …
Rumors circulate that the GSU library personnel User Services and Technology Support staff were consumed by zombies!
Suddenly my eyes open and I realize it was all just a  bad dream – oh, what a nightmare!*
*This account and those previously posted this week are fictional. You can rest assured that the Georgia State University Library employees have not been eaten by zombies and are still hard at work providing the critical library services necessary for you to succeed at Georgia State University.  Thanks for celebrating National Library Week with us, a week-long celebration in recognition for the contributions of our nation's libraries and library workers – and particularly for celebrating it zombie style. 😉
And many thanks to our Personnel Development Committee members who wrote these creative zombie posts: Cynthia Hollaway-Owens, Pam Lucas, Mandy Swygart-Hobaugh, Jackie Werner, and Susan Wynne.