The Georgia State University Library has experienced a zombie attack that has wiped out almost the entire University Library staff. Over the course of this National Library Week, the few survivors will give their accounts of the disasters befalling the University Library due to the absence of these vital library workers.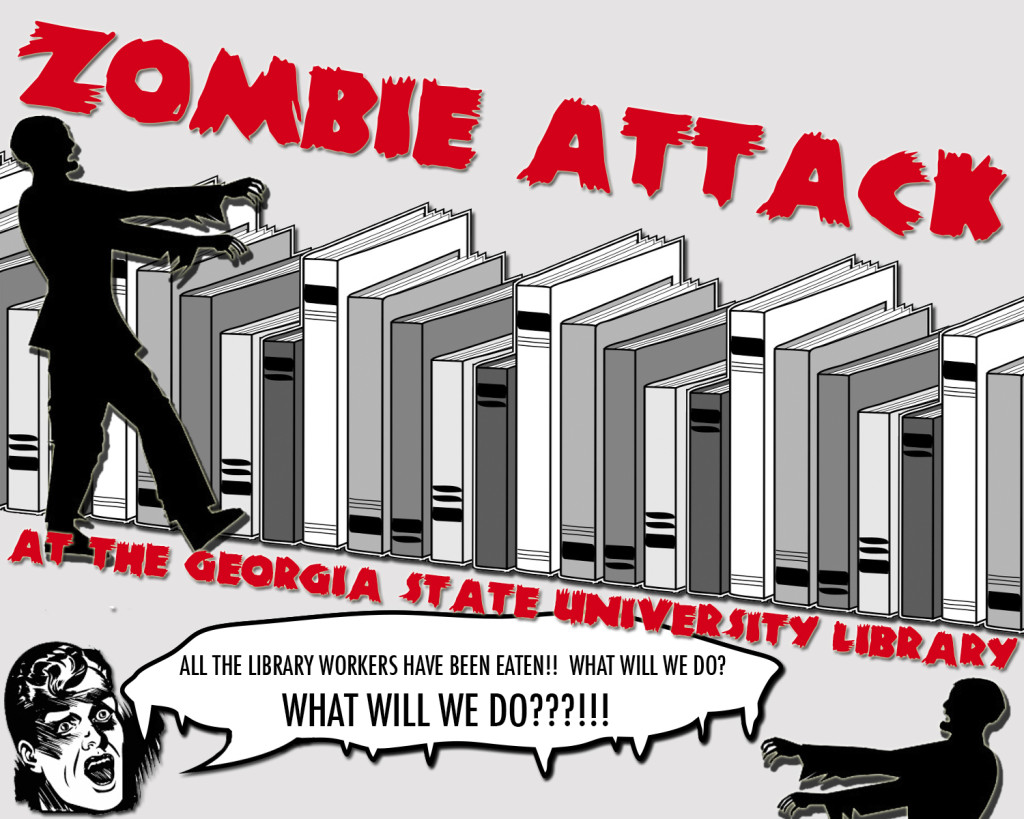 Susan's Account:
A frazzled student approaches the Research Support Desk. "Er, can you help me? My paper is due in two hours, and my professor says I have to have a peer-reviewed scholarly article, and I just located the last perfect article I need, but the link doesn't work." Before the reference librarian on duty can draw breath to respond with a cheerful, "Sure, let's take a look," the phone rings. Then the tweets and emails begin to trickle in; slowly at first, but then with a rising sense of panic. We can't get the articles we need! Is the Internet broken, someone asks? No—other websites are working. Is GALILEO down? No one else in Georgia has reported problems.
Meanwhile, a film studies professor can't find the DVD she is scheduled to show to a community symposium in ten minutes! She ordered it RUSH last week, but it's not in the GIL catalog so we don't even know where to look! Students report locating titles in the GIL catalog for their research topics, but all the records seem to have a hideous, dreadful red error message where the call numbers should be. And the stacks student workers are waiting for new materials to shelve but there aren't any. Eventually, a ghostly-looking book cart appears, but the spine labels are either nonexistent or look funny and there are no records in the GIL catalog for any of these titles.
A flurry of helpdesk tickets, emails, and phone calls to Technical Services ensues, with no response. Come to think of it, has anybody seen them today? After several hours of calming confused students and professors, finally a harried User Services employee has a moment to slip up to the 6th floor. Hearing odd noises, he gingerly opens the Technical Services office door. "Hello? Is anyone there?"
One by one, the Technical Services department staff comes to meet their colleague, looking tired but triumphant. "Some deceased authors escaped from the authority files. This morning we caught them suppressing GIL records and breaking e-journal links. Finally we were able to break free long enough to add death dates to their authority records, and that seemed to satisfy them. We're just running a few more reports to make sure we've fixed all the problems."
Next day:
All is normal in Technical Services, as we work hard to provide access to all the resources our students, faculty, and staff need and wrangling "zombie" data in the catalog and e-resource management systems!*
---
*This account and those to follow are fictional. You can rest assured that the Georgia State University Library employees have not been eaten by zombies and are still hard at work providing the critical library services necessary for you to succeed at Georgia State University – happy National Library Week! 🙂