The Georgia State University Library has experienced a zombie attack that has wiped out almost the entire University Library staff. Over the course of this National Library Week, the few survivors will give their accounts of the disasters befalling the University Library due to the absence of these vital library workers.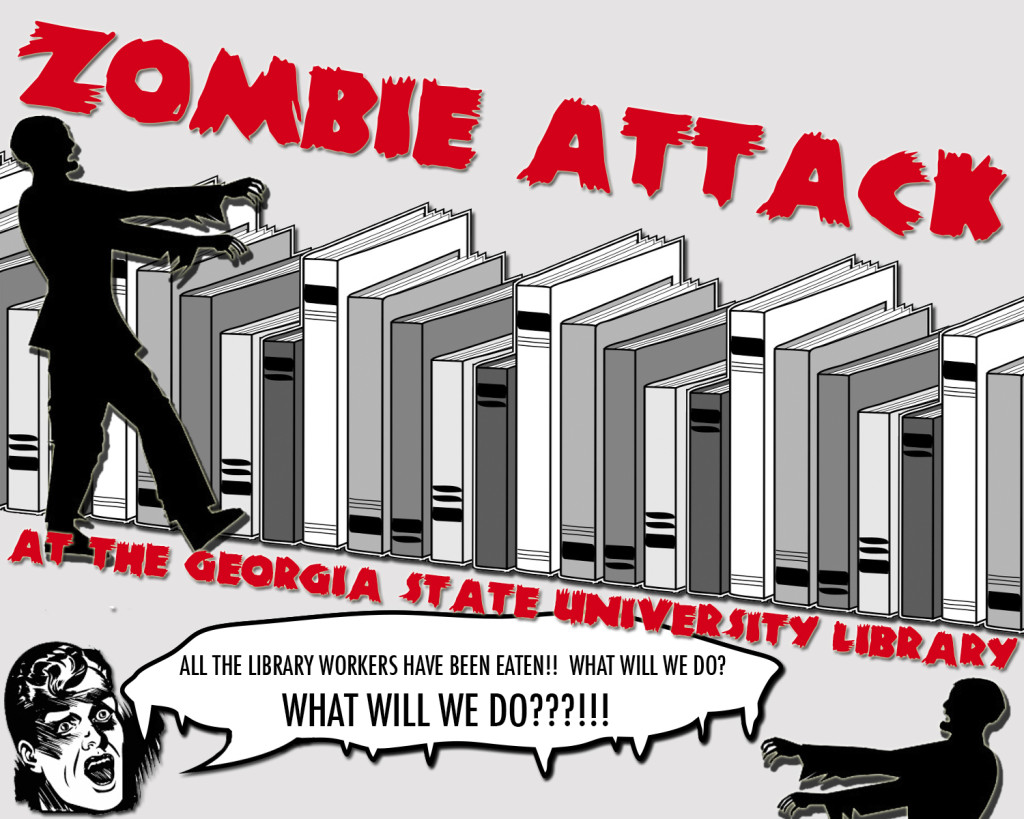 Jackie's Account:
The first sign of trouble is the giant human brain visible on CURVE's interactWall when you walk into Library South. That wouldn't be so strange, except the parts of the brain are labeled "tasty," "delicious," and "yum." You swipe into CURVE, thinking of a way to help: Maybe you can display a warning on the interactWall? But without CURVE librarians and staff to help out, you don't know how to use the interactWall. You could use a CURVE workstation to work out some statistics and calculate how many zombies are left—but none of the CURVE consultation team is there to help with the programs you could use. Even worse, you can see there are some zombies nearby and there's no one to enforce the no eating (brains) in CURVE rule.
You think to yourself, "Zombie fighting counts as a research topic, right?" Slipping past the zombies, you rush over to the Research Support desk on Library North 1 while you go to the library website on your phone. You could use Live Assistance chat to ask for advice—but no, there's no librarian on chat to answer your question. And once you get to the Research Support desk, there's no one there either. There's no Research and Engagement librarian to walk you through finding zombie attack articles, or to order credible books on fending off zombies, or to create a Research Guide collecting all the library's zombie resources. And there's no one to help you remember what the nagging thought is at the back of your mind…
Wait, wasn't your class coming to the library today?
Holding your breath, you sneak over to Classroom 1 and peek in. Your classmates are in there, and there's the database you're supposed to be learning projected at the front of the room. But instead of a librarian demonstrating how to search for scholarly articles, there's a zombie standing at the front of the classroom.
And no results are found for "AAAAAAAARGH."*
---
*This account and those to follow are fictional. You can rest assured that the Georgia State University Library employees have not been eaten by zombies and are still hard at work providing the critical library services necessary for you to succeed at Georgia State University – happy National Library Week! 🙂