The Georgia State University Library has experienced a zombie attack that has wiped out almost the entire University Library staff. Over the course of this National Library Week, the few survivors will give their accounts of the disasters befalling the University Library due to the absence of these vital library workers.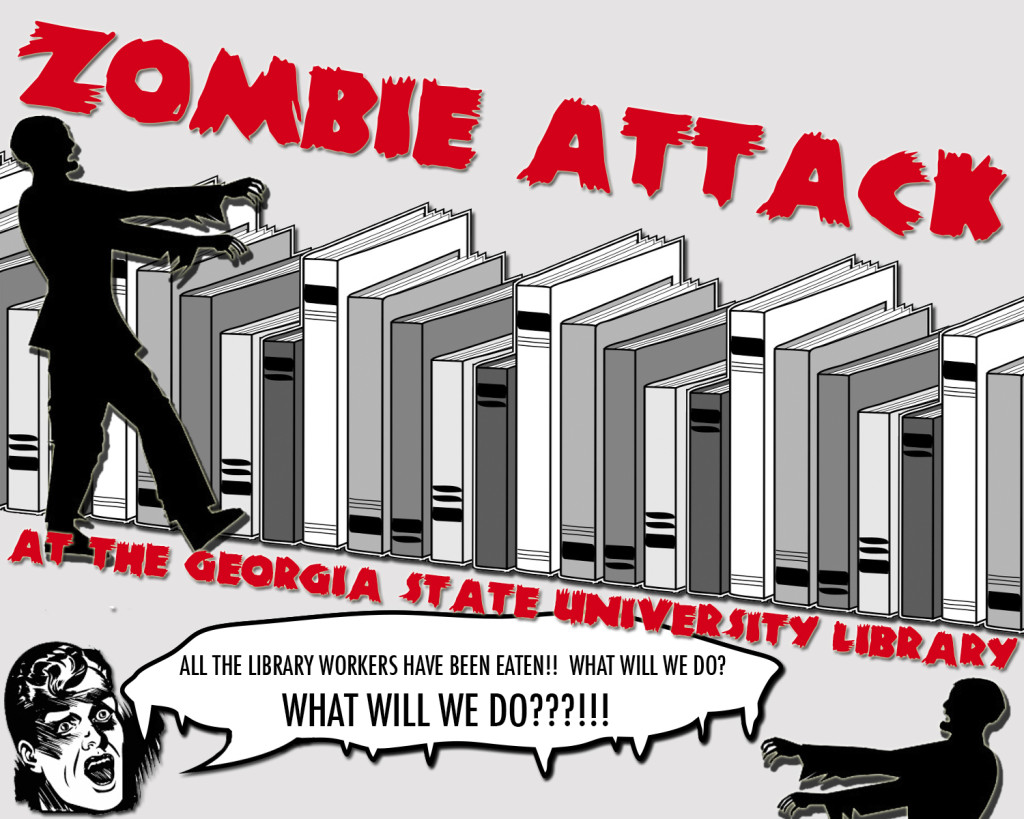 Susan's Account:
A group of students and budding social activists have gathered in the library. They look excited but a little bewildered, so I ask them if they need help.
"Our professor says we have some good books and articles for our project on feminism, but she said we need primary sources. But I don't know what that means. What are primary sources? Where do we find them?"
After a brief explanation of primary sources, I tell them about Special Collections & Archives. "And you're in luck. We have a lot of great material on women's studies, especially the women's movement in Georgia. There are really interesting things like oral history interviews, rare periodicals, personal papers or correspondence of many women involved in the movement, and even political buttons. Some of it is online, but you'll really want to schedule a visit in-person. And the archivists and staff can give you expert guidance to the collections." I offer to take them upstairs to consult the employee on duty in the reading room.
But when we get there, it's almost deserted and the atmosphere is eerie. The only people in sight are a woman who's there to record an oral history interview and a man wanting to donate a box of machinists' union records he located in his grandfather's basement. And then we know—the zombie attack has reached the 8th floor! I run into the Special Collections stacks to find many years of university records scattered on the floor, rare books gone, and unique AJC photographs trampled and torn! The records and untold stories of southern labor unions, Atlanta's first radio station, many local social activists, the legendary songwriter Johnny Mercer, and so much more—disappeared or destroyed!
Our valiant Special Collections department works every day to collect and protect unique and rare resources, not from undead, brain-eating creatures but from the dangers of neglect, decay, and technical obsolescence. They don't just preserve irreplaceable materials and knowledge, they arrange, describe, and digitize resources for use by researchers. But the materials aren't the only treasure stores of knowledge in Special Collections— the human brains are too. Oh no, I didn't mean to say BRAINS! The zombies are coming back!
P.S. Special Collections staff assures me that there are no known photographs of previous zombie attacks in Atlanta in the AJC Photo Archive.*
---
*This account and those to follow are fictional. You can rest assured that the Georgia State University Library employees have not been eaten by zombies and are still hard at work providing the critical library services necessary for you to succeed at Georgia State University – happy National Library Week! 🙂