Pam arrives at the Georgia State University Library on the first day of National Library Week – a week of celebrations to demonstrate appreciation for the dedication and hard work of our library employees.  But something is amiss…
Pam's Account:
The day started like any other. You know, the need for early morning coffee and endless traffic. As I pulled into the empty parking lot I had this eerie sensation that something wasn't right. Shaking it off, I walked into the building and noticed that the lights were still off. "Our Facilities Coordinator must be running late this morning," I thought. I made my way up to my office and tried to turn on the lights and my computer. No lights, but after a few minutes – "the blue screen of death" on my computer screen. I needed to put in a help desk ticket in a hurry. Firing up my iPad I realized that the internet was down too. I tried to call someone in Digital Library Services to see what was up with the internet and to let them know what was going on with my computer – no answer. The clock said 9:00am, so where was everybody?
I decided to do some paperwork while I waited for someone to come in. After a few minutes the phone rang – a student reporting that the bathroom on Library North 1 was flooding into the hallway. No one had come into my office, and I still had no computer access, so I went down to Library South 2 to report the issues to our Facilities Coordinator. There were still no lights on downstairs or in the Library South 2 suite, and no one was in sight. "Okay, now it's getting creepy," I thought. I went into the suite to see if anyone was there; there was not a soul in sight. I tried turning on the lights but had no luck. I needed to let someone know about the flooding so I headed back up to my desk to call campus facilities. I decided to stop first and see if anyone from Digital Library Services had come in. Walking around the department it was clear that all the cubicles were empty. No coats, no computers logged in, no cups of coffee, nothing. What was going on?
When I got back to my desk the phones were ringing off the hook, and still none of my Library Administration officemates were in – no Dean or Associate Deans, no Administrative Assistants, no Library Administrative Coordinator, no Assessment & User Experience Librarian. And calls were coming in from all over the library and campus: the entire building was dark except for the emergency lights; none of the computers or printers were working; someone was stuck in the elevator on the fifth floor; FedEx was trying to deliver 100 large boxes of computers; employee paychecks were bouncing and health benefits deductions were all a mess; our online user survey wasn't working; our digital collections were all offline; and all the digital and print signs in the library were spattered with some strange red substance. No facilities assistance, no technical support, no one in the mailroom, no business or human resources support, no public relations and marketing support, no user experience and assessment support, no library Dean or Associate Deans to turn to for help…was I being punk'd?!
Under normal circumstances I would calmly weigh my options and find a workable solution. Although these kinds of things happen every day in the library, it takes a team of pros to make it all run smoothly – and none of them had come to work today! So under cover of self-preservation I grabbed my keys and decided to go outside to clear my head. The moment the double doors closed behind me on the 1st floor I froze in a panic when I saw them lumbering around the Plaza…ZOMBIES!
And it dawned on me: Zombies had eaten my coworkers in Library Administration and Digital Library Services – NO!!!!!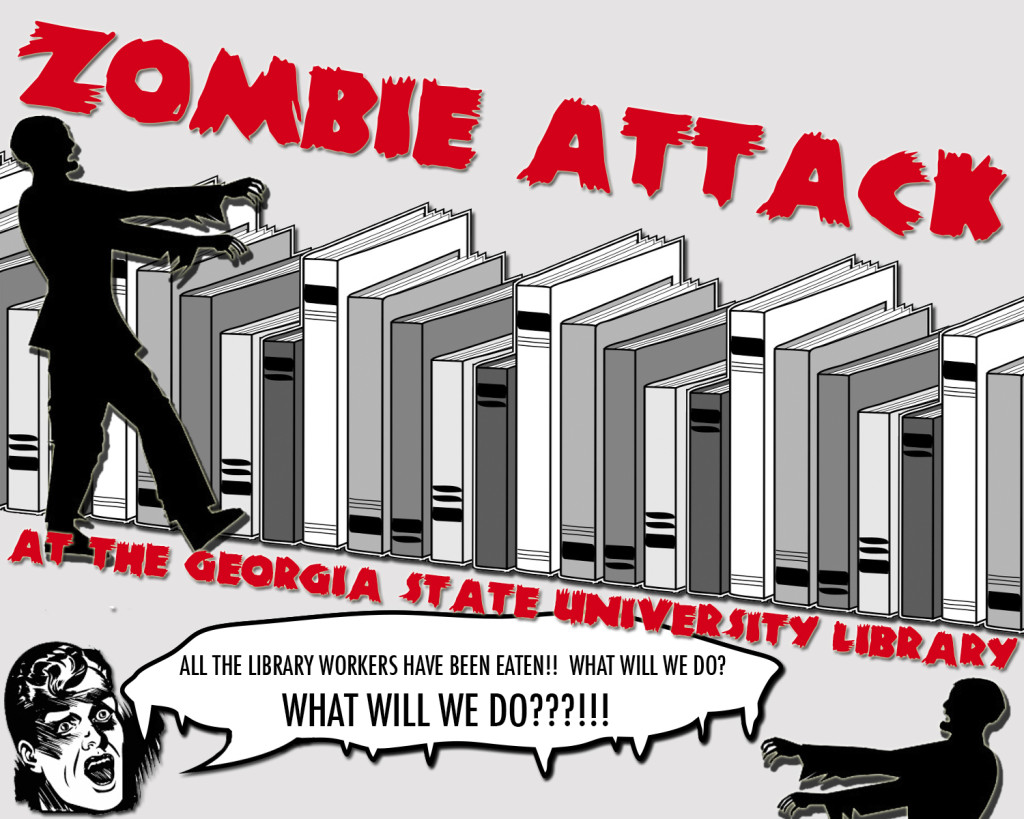 Stay tuned this National Library Week as the few survivors give their accounts of the disasters befalling the University Library due to the absence of these vital library workers.*
---
*This account and those to follow are fictional. You can rest assured that the Georgia State University Library employees have not been eaten by zombies and are still hard at work providing the critical library services necessary for you to succeed at Georgia State University – happy National Library Week! 🙂