Dr. Stephen Dobranski appointed Distinguished University Professor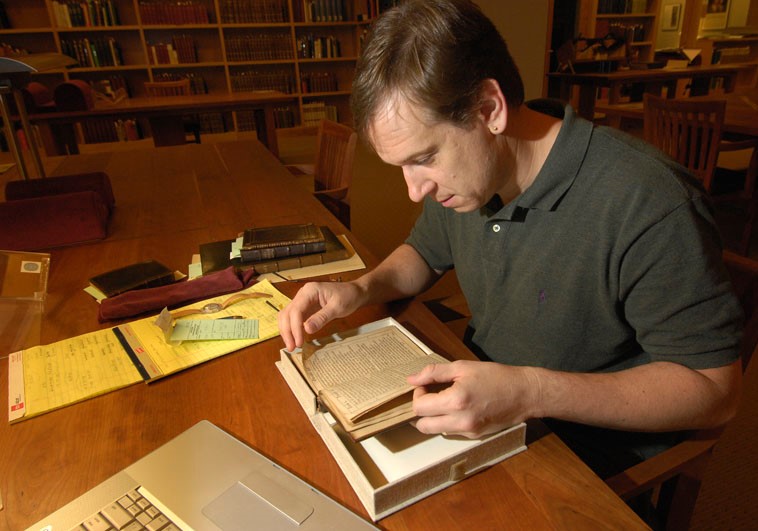 Dr. Stephen Dobranski, Professor in the English Department, will begin a five-year appointment July 1st , 2014 as Distinguished University Professor. He has been appointed in recognition of his outstanding records in research, teaching, and mentoring students in research. Professors are nominated by their deans and reviewed by an ad hoc committee of Regents Professors, then approved by President Mark Becker and Provost Risa Palm.
Dr. Dobranski received his Ph.D. from the University of Texas at Austin in 1996 and was hired at Georgia State University the same year. During his time at Georgia State University he achieved the rank of Professor and is now the Director of Undergraduate Studies in the English Department. Even with these responsibilities, he continues to teach graduate and undergraduate courses in John Milton, early modern literature, and textual studies as well as introductory courses in British and world literature. Dr. Dobranski  also serves as the English Department's library liaison and has contributed to the University Library collections' development and management.
Dr. Dobranksi has received several awards for his scholarship and has published many books and articles. Books he has won awards for include:
He received the Pforzheimer Fellowship from the Harry Ransom  Center and a Seminar Fellowship to the Texas Institute for Literary and Textual Studies. He is the author of The Cambridge Introduction to Milton (2012) and his articles on early modern literature have appeared in various multi-authored collections as well as ELR, Milton Quarterly, Milton Studies, Modern Philology, PMLA, RES, The Seventeenth Century, and SEL. Congratulations Dr. Dobranski!