Religious Studies Faculty Member Awarded Ford Foundation Fellowship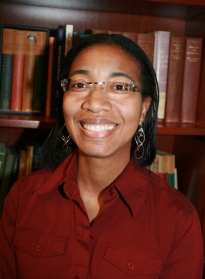 Congratulations to Dr. Monique Moultrie, Assistant Professor in the Department of Religious Studies, who has been selected as an awardee in the Ford Foundation 2014 Postdoctoral Fellowship Competition. Dr. Moultrie's proposed research project is a book manuscript focused on African American televangelism and women's sexual agency. She will spend the 2014-2015 academic year at Harvard University.
The fellowship is sponsored by the Ford Foundation and administered by the National Research Council of the National Academies. Her selection for this prestigious award reflects Ford review panelists' judgment of her scholarly promise for future achievement as a scholar, researcher, and teacher in an institution of higher education. The Ford Foundation seeks to increase the number of professors who can and will use diversity as a resource for enriching the education of all students.
Recent publications by Dr. Moultrie, available through the University Library, include:
"After the Thrill is Gone: Married to the Holy Spirit but Still Sleeping Alone." Pneuma: The Journal of the Society for Pentecostal Studies 33.1 (2011): 237-253.
"New Perspectives On The Montgomery Bus Boycott." Journal Of African American History 94.1 (2009): 92-96.