This week there have been important changes made to the printing system on campus, including the computers in the library. The most important part of this change affects the information you enter when sending something to the printer.  As a student, faculty or staff, you must enter your CampusID and password in order to send the job to the printer.  If you are using a visitor print card, you will enter the number printed on the front of the guest print card.
The print system box looks very similar to the one before the changes, with a single password box instead of two.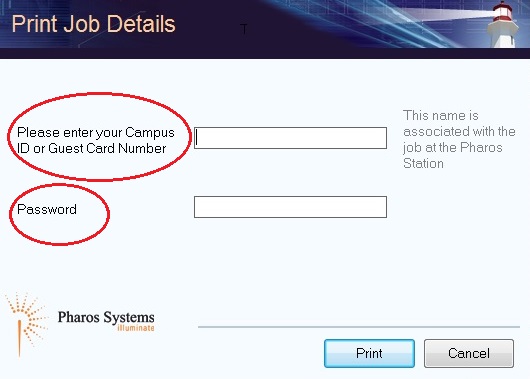 The other change you may notice is that when you swipe your PantherCard or guest card at the print release stations, you will only see your print jobs in the queue.  If you don't see any jobs in the print queue, either your CampusID or password was incorrect and the job did not get sent to the printer. Re-send the job to the printer.
At this point, wireless printing is not available. Please save the your file to a flash drive or email it to yourself and you will be able to print from one of the computers.